Atom was a child TV personality but is now a yummy-licious hunk — and not just any goodlooking hunk. He is the ultimate beauty and brains hunk. Read on, Atom is Manila Gay Guy's hunk of the week! Oh, the sexiness of a beautiful mind!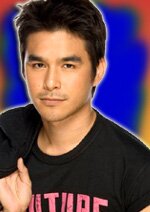 Alfonso Tomas Pagaduan Araullo, better known as Atom Araullo (born October 19, 1982) is a television personality, sportsman, and activist in the Philippines.
He is the second and youngest child of Carol Pagaduan Araullo, a medical doctor and an activist, and Miguel Araullo, an engineer. Both of his parents were both activists during the Marcos regime. His elder sister, Sandra, is an Applied Physics professor in the University of the Philippines and is also a member of the Philippines' triathlon team.
Araullo spent most of his early childhood days with his parents battling it out during the Marcos regime and dictatorship. This has exposed him to the political struggle in the country. During his early elementary school days, his parents exposed him to sports and the theater. He also joined various competitions as a triathlete. He also became part of several plays.
He also is a well-known television show host. As a child, he has been one of the anchors for the children's show 5 and Up. At present, he is a regular host for the youth-oriented show Kabataan News Network (KNN), as well as Studio 23's morning show, Breakfast. Atom is musically inclined and he knows how play the flute. He also is a talented writer. In fact, one of his essays won him a trip to Africa. Atom also loves photography and is often seen during rallies and mobilizations with his camera in handy.
Atom graduated from the University of the Philippines in Diliman, Quezon City in 2005 with a Bachelor of Science in Applied Physics. During his stay in the university, he has been active in political alliances and has served as a councilor in the university student council. He also was an editor for his college's publication for a year. (Text from Wikipedia.org)








Possibly Related Entries:

14 Responses to "Atom Araullo, beauty and brains"
Leave a Reply