Previously I published in this blog how our dear Philippines ranks highest in Google Trends for the country with the highest propensity for searching the terms gay sex, masturbation, and cybersex.
Just recently, by tinkering the same Google tool I discovered that you can zoom in on one country and see which cities rank the highest propensity for searching certain terms. I tried different combinations, and somehow the results were kind of predictable, and the cities do not vary that much. Until I tried the term, oh what else, "gay." I was quite surprised how Cagayan de Oro managed to burst out of the pack and exhibit outstanding propensity ratings. Here's a screenshot of the Google Trends results.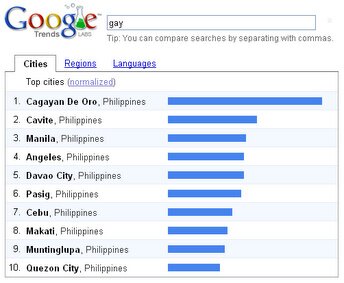 Again, tell me, does this mean people in Cagayan de Oro has some kind of fascination with gays? Hmmm…. maybe we should watch out for CDO Gay Guy? Hehehe.
Anyone reading this from Cagayan de Oro? I'm not picking on you guys, just stating an objective finding. I'm interested to know, what do you think of this?
Or anyone, from Cagayan de Oro or otherwise, who can offer his/her opinion?








Possibly Related Entries:

16 Responses to "Cagayan de Oro's Gay Fascination"
Leave a Reply