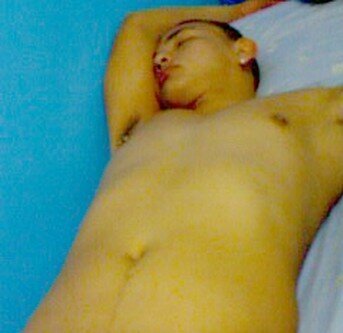 I am breaking my silence about this issue now, and I hope people understand why I had to do it this late. I've known Janvier for some time now and yes, we've sort of become friends. Imagine then when several weeks back I received an anonymous email with an attachment: a nude, sleeping Janvier Daily.

The photo was unmistakably Janvier. First thing I did was to respond to the anonymous email, asking where the pic was from. (I never got a reply.) Next, I called Janvier. We talked and agreed to meet the following day so I can personally show him the photo.
I saved the photo in my cellphone and that was what I showed him when we met up. When I handed him my phone, he was quiet, intently looking at that naked glory occupying the entire area of my cellphone's shiny screen. I asked the million-dollar question, "Janvier, ikaw nga ba yan?" to which he answered "yeah, ako nga ito." Then he mumbled something about the room's wall, and the bedsheet. And after some more pregnant silence, he mentioned to me the name of the most probable person who took this photo, where, and when the photo was taken. We talked further about the possible intention of the person — and while it was nothing less than malicious I can see how Janvier was cool about it, quite unperturbed. I saw how he didn't expect much from the person.
No it was not Ethel Booba, as some people have theorized; nor was it among Ethel's friends. Janvier requested for me not to mention the person's name, so I'm respecting that request and quite thankful for the confidence he has given me.
I know for a fact, even long before, that Janvier frequently sleeps in the buff. Thus this particular photo is a typical sleeping Janvier. So I told him not to make such a big fuss out of it. "Be proud," I even joked, "lots of guys are wishing for that same schlong you got there hanging." We laughed, and then he turned serious again.
"Worry ko lang si Mama," Janvier continued. Yes, Janvier is such a Mama's boy in a certain lovable way. Janvier's mom is a typical conservative Filipina who got shocked when she saw Janvier in Troika's magazine. And Janvier didn't even reveal much in that publication. Here it's hanging for all the world to see — how do you expect a mother to react?
I didn't know how to respond, admitting to myself that it was a real sticky situation, and just said "andyan na yan, Janvier. Wala na tayong magagawa." In the end, I was just impressed with Janvier's absolute honesty. He gave me nothing less than the untampered, immaculate, unequivocal truth. It was indeed the naked, naked truth.








Possibly Related Entries:

77 Responses to "Naked Truth About Janvier's Pic"
Leave a Reply