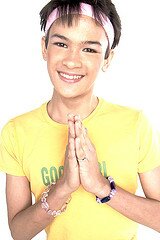 Why is it that many, if not most, "straight acting" PLUs or those who say they are "bi" would say in their personal ads, "No effems please!" What is so wrong with being "effem"?
Homophobia, according to Angelo Pezzote , an experienced Gay therapist in the US, is the fear of the perception of being gay. Following this line of thought, I would say these apparently "straight acting" PLUs are themselves actually homophobic. They fear the social stigma that comes with being gay. Thus in their prowl for friends and partners, they want to have someone whom they can be seen together with, and still preserve the image of "macho" masculinity. Being seen with someone who has effeminate ways would definitely put a dent on their manly image. This may be the major reason why these PLUs really go for non-effeminate PLUs.
What other possible reason do they have for preferring fellow straight acting "bi"s or gays? The only other reason I can come up with is from Economics. The Law of Supply and Demand. "Straight acting" dudes are much fewer than the out and about effems in the gay world. Not only are they fewer, they are much harder to identify. Now being fewer and harder to find, would it not be more in demand?
My take on this is simple. We have to be realistic, and acknowledge that people have their preferences. We should respect those preferences, as much as we want our own to be respected too. Therefore when you find someone, in the chatroom or even in friendly conversations, say they don't like "effems," it would be wise to just keep the above thoughts in mind. Yes, they may exhibit some kind of discrimination within their same kind, but at least you know where they are possibly coming from. Keep in mind that there is nothing wrong with being one's self – whether in articulating their preferences, or in expressing one's masculinity or femininity.








Possibly Related Entries:

21 Responses to "No effems please"
Leave a Reply