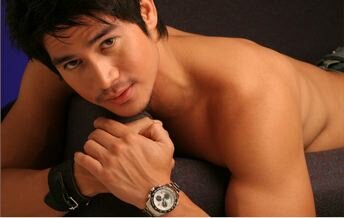 First it was Gus, the gay man who has a wife who doesn't know, 2 beautiful daughters, and one gay querida boyfriend…
Then the guy whom I burned phone lines with… the same one who dedicated the song "You Give Me Something."
Then the other guy (friends with Gus) who I slept with one Friday night, only to find out the following Tuesday that he was married (I saw them together in Baclaran!)
All these happened within a span of just 1 month. Now fate has it for me to be dating Zander, another straight-acting, confused, gay man.
On the one hand, I tell myself, "feeling beauty queen ka ha! Ang haba ng hair!" But thinking about it more, I feel I am just wasting my precious, precious time as a single gay man. But that is not the point I wanted to make.

The point is, it's raining straight-acting gay men. They are everywhere. Is it good or bad? Or is it neither good nor bad?
For girls, I feel scared for you. Ask your gay friends' opinion before falling in love with your man. "Behind every successful man is a woman. Behind every successful woman is a gay bestfriend."
For gay men who cannot understand why some of our fellow gay men are straight-acting, calm down. Fact of life yan. No need to be judgmental; accept the fact that embracing diversity means welcoming gay guys who are naturally masculine in their outward behavior.
For gay men who force themselves to be straight-acting, otherwise called (though often condescendingly) "paminta" — keri lang. Live and let live and motto ko, as long as you don't harm others. As long as you are happy how you are then, why not? Malay ninyo mahipan kayo ng hangin, at maging tunay na straight-acting! Yahooo!
For gay men who are naturally straight-acting, cool lang kayo. Some of you (not all) have this tendency to look down upon "effems" — please don't. I applaud the "effems" because they have the courage to be such even if society generally frowns upon their unconventional behavior. Give them the respect they need. I understand one major setback you have as a naturally straight-acting gay man: confusion with your sexual preference is more prevalent, because outwardly you really can be mistaken as straight. But deep inside you, you got to find out, what really is your sexual preference. Only you can answer that.
Lastly, straight-acting gay men generally have a lot more hurdles to go through in finding a gay relationship for themselves (if they so desire). It's harder for them to find people of the same nature since they, like themselves, are cloaked in outwardly masculine behavior.
So, dear MGG readers, what do you think? What can you say about straight-acting gay men?








Possibly Related Entries:

53 Responses to "It's Raining (Str8acting Gay) Men!"
Leave a Reply