I was bloghopping and found these pictures of a 23-year-old Pinoy living in San Diego, California, USA. His screenname is "Tiggah" — "Tigz" for short. At first I was not sure he was Filipino, so I read through his blog posts. As soon as I saw some reference to Pinoy food, I was almost sure he was Filipino. But I felt I had to find out for sure. So I added him up as my Flickr contact, and emailed him. "Are you Pinoy?"
And he answered:
Why did I bother checking? or better yet, why was I so interested in him? Well… I hope the pictures can do the explanation!
More pics ahead!
By the way, Tiggah responded affirmatively - "Yes I am Pinoy!"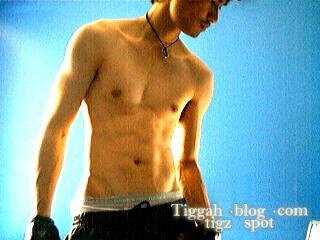 Tiggah has a partner, nicknamed Pooh… in the following pics, Pooh (semikal) is on the left while Tiggah is on the right. Pooh is Pinoy too. Ain't they such a cute couple?
By the way, since Tiggah is a lover of Shakespearean Love Sonnets, with this I'd like to thank him for allowing me to post his pics here. Tiggah, this is for you…
Shall I compare thee to a summer's day?
Thou art more lovely and more temperate:
Rough winds do shake the darling buds of May,
And summer's lease hath all too short a date:
Sometime too hot the eye of heaven shines,
And often is his gold complexion dimmed,
And every fair from fair sometime declines,
By chance, or nature's changing course untrimmed:
But thy eternal summer shall not fade,
Nor lose possession of that fair thou ow'st,
Nor shall death brag thou wander'st in his shade,
When in eternal lines to time thou grow'st,
So long as men can breathe, or eyes can see,
So long lives this, and this gives life to thee.
Tiggah maintains a blog, and has lots of pics in his Flickr account too. There you will see how tame these pics are, and you will see the real Tiger in Tiggah — you know what I mean. He doesn't call himself an exhibitionist for nothing. *wink wink* Hehehe.








Possibly Related Entries:

45 Responses to "The Tiger in Tiggah"
Leave a Reply