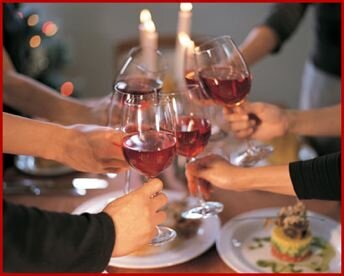 Fellow bloggers express their love and support for MGG! Thank you for your greetings and these testimonials! I am very much humbled, and would like to share this milestone, my blog's first anniversary, to all my loyal readers! *Mwah!* and World Peace to all!
* * *
From Gibbs of GibbsCadiz.com:
"Unique" and "one-of-a-kind" are descriptions often used for anything and everything nowadays, thereby ensuring that the words lose their potency in the end, becoming only the opposite of what they mean. But "unique" and "one-of-a-kind" remain forceful words when applied to ManilaGayGuy, because this is a blog that has remained an original — in content, in tone, in presentation, in wit, in intelligence and style — since it was launched one year ago. There is no site out there that comes close to the distinct mix of naughty (but never raunchy), compelling and thought-provoking posts that Migs concocts everyday for his many, many readers. Other gay sites may offer more racy stuff. MGG sticks to the fun, friendly and welcoming. What I like most about MGG is that it never talks down to its readers. It reflects very well on its owner, who is a smart, thoughtful guy who does not take himself too seriously and has sensitivity to spare for others. That's Migs, and that's MGG. I am privileged to be a good friend to the person and an occasional contributor to this blog (via the Troikasters podcasts). Congratulations and happy anniversary, MGG!
From Joel McVie of The McVie Show:
I've always maintained that Migs' The Manila Gay Guide (MGG) is more than a blog. It is a forum, a safe house, a daily habit, a dose of gay eye candy, a shoulder to cry on, and most importantly, a diverse community. One can try and dissect the various reasons why MGG works: the unseen mug of Migs, the delicious boys featured, the lively interaction between various opinionated readers, the open-endedness and welcoming stance of Migs, the "World Peace!" battle cry, and so on. But in the end gay folks (and I hear, even some straight ones too) come back for more. No wonder MGG's former server gave up due to the high traffic. MGG now has a new server, which is for the best since I believe there will be more new MGG readers coming in. Maybe one day the new server will give up too, but we ardent MGG fans won't.
From Rocky of The Geeky Guide To Nearly Everything:
Apparently MGG and I share the same birthday - certainly an event I'm glad to share with this landmark blog. I remember first coming across the blog searching for those darned elusive pictures of Tom Taus all grown up and I was greeted by the initially garishly green site that screamed queer from my office workstation. A few ALT-TABs later, I explored the site further and was greeted by not only a rich collection of guys worth drooling over but also a daring attempt to be brazenly queer in a largely sanitized local blogosphere. One year and several million hits later, MGG has proven itself to be more than just a place for eye candy but also a place to help promote a sense of community amongst Filipino bloggers and readers alike and to show the world that we too have a strong gay voice despite our predominantly Catholic population. And of course, don't forget how it promotes world peace . Happy First MGG!
From Kai Santorino of Lows, Highs, and Alibis:
Why do I read Manila Gay Guy everyday? Because it's always filled with worthwhile contents. It's not just about posting sexy or naked pictures of Filipino men. It's a big celebration of People Like Us on the worldwide web. Congratulations to Migs for such a spectacular year. I wish you many more gayer than gay years online!
From Ian of Your Gayness:
Manila Gay Guy… I can't seem to remember how and when I first stumbled upon this blog. All I know is, at that time, I was starting to visit and read gay blogs. I wanted to belong to a community, even if it is just online, because I am surrounded mostly by straight people, most of them homophobic too. And being able to communicate with other gays through their blogs is the closest I have to being in a community where I feel free to express my thoughts and feelings, without having to hide my sexuality. MGG was among the few blogs that really got me hooked. I couldn't let my day pass without checking what's new with MGG. Of course, I loved most of the men featured by Migs (sana Migs feature mo rin si Will DeVaughn at si Eri Neeman), and at times I took the risk of being caught looking at the photos of these hot men. Actually, yun lang naman ang habol ko sa MGG! Just kidding!!! MGG helped me reassess myself. I remember reading one post of Migs where he answered the question, "Should gayness define you?" It helped me realize that while my sexuality is a fundamental part of my being, it is not the only thing that matters. While some people might make a big deal out of my being gay, I should not. MGG also provided me strength at times when I feel so low. With the troikasters discussing important gay issues amidst jokes and laughter, I was able to get important answers to some questions I have and at the same time, I was able to maintain a positive disposition. (By the way, Migs, when are you gonna feature a podcast on sexuality and religion? I'm looking forward to it.) MGG has really been a big help for me. And I am sure it has also been to the others who shared their stories and asked for advice not just from Migs but from the many readers who frequently visit MGG. I am happy that MGG is celebrating its first anniversary. I hope that MGG will be able to touch more lives–bring hope and love to those in the LGBT community, and at the same time, enlighten our heterosexual brethren. Congratulations, Migs! — Sana makilala rin kita in person…
From Tiggah of Tiggah's Life in Random:
Congrats to Manila Gay Guy Blog on your 1st Anniversary! I've been a reader of Manila Gay Guy Blog for quite some time now and I really enjoy it a lot. Your blog always has interesting topics and eye catching images! They're always insightful, informative, and fun. J Being of Filipino descent, I am very happy to see a blog dedicated to Filipino heritage, views/opinions, and beauty.








Possibly Related Entries:

10 Responses to "Fellow Bloggers Love MGG"
Leave a Reply