HUNKS, HUNKS, HUNKS! It's raining hunks once again, ladies and gentlemen… But wait, who is this hunky Justin Cuyugan?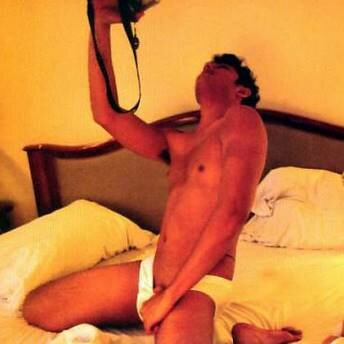 Look at the pic closely… is that the head of his **** peeking out?… or maybe just his thumb? Look again…

What is he doing in this pic?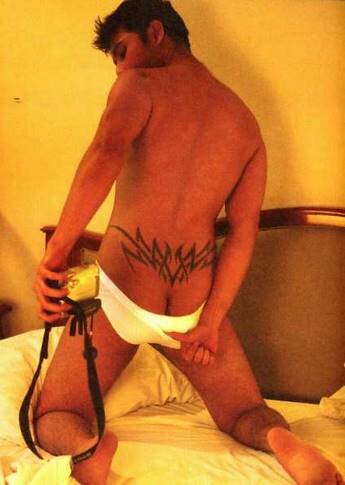 And these suggestive facial expressions… wow. Had to screen the pics and show only this here (we're not a porn site, ok?). More of this kind where this came from…

Lastly, his cute, cute face:

Who is Justin Cuyugan? When I saw the above pics, I knew I had to know him better. In person preferably, hehehe. But the internet is a great quickie tool so here goes… what I have searched about Justin. Read on:
From iGMA.tv:
I. BIO
A. Basic Info
Name: Justin Paulo Cuyugan
Nickname: Justin/Paw paw
Birthday: October 11, 1980
Birthplace: San Fernando, Pampanga
Showbiz Anniversary: November 17, 1998
B. Favorites
Hobbies: Collecting coca-cola products
Sports: Swimming
Pet/s: Golden Retriever, Persian cat
Actors/Actresses:
Local: Joel Torre
Foreign: Al Pacino, John Malckovich
Movie: Of Mice and Men, Children of Heaven
TV Show: Power Zone
Singer: Dave Matthews Band, Dream Theatre, Dish Walla
Song: Ants Marching
Music: Alternative, jazz, rock
Book: Rich Dad Poor Dad
Author: Anne Rice, Robert Kyosaki
C. Personal
Adjectives that best describe you: Thinker, kulit "minsan," simple, quiet
Fashion Icon: Cozy casual
Most treasured item: Contact lens
Unforgettable childhood memory: Ligo sa gate walang damit at salawal
Goals: To be recognized as one of the best actors
Role Model: Joel Torre
II. Q & A
Why did you enter show business? Accident
What do you consider as the turning point in your career? Aside from my gay role, Arkrey of Etheria
If you weren't in showbiz, what kind of career would you have? Drummer, musician
What is your biggest frustration/regret? I can't fly
What is your most unforgettable moment/experience? When I had my babies
What are you most proud of? Quino and Ava
What do you value most? My kids, family and friends (DRAT, he's married! Hmpt!)
What do you want to achieve? Hollywood recognition
What is your advice to aspiring artists? Do it from the heart!
From showbizpinoy.com: (on ex-girlfriend Gwen Garci)
It's okay for good-looking hunk Justin Cuyugan to talk about his ex-girlfriend sexy starlet Gwen Garci.
Justin says that he has always had this great amount of concern for his ex-girlfriend especially when she is caught between nasty and outrageous intrigues.
"It's true that I still have this concern for Gwen," says Justin. "Gwen became a part of my life for more than two years. First love namin ang isa't isa noon. Even though she said some untrue things about me, I forgave her for doing that. I'm not the type of person who would throw away good memories."
And if there was a chance for Justin to have a heart-to-heart talk with Gwen, he would do it only because he wants to know how his ex-girlfriend is doing.
"I would just like to talk to her regarding her issues. Kasi bakit nababasa ko na binubugbog daw siya ni Andrew Wolfe tapos makikipagbalikan pa siya? I mean, weird na yon, di ba? But if she doesn't want to open up on that, I would understand. Ang sa akin lang, concerned ako kasi baka kung ano ang mangyari sa kanya balang araw if she doesn't take care of herself."
Justin has a non-showbiz girlfriend that he has been with for the past three years. He chose to have someone not from showbiz so that it would not complicate his life.
"Mas okay na sa akin ang hindi artista. Less intrigue and less scandal. I want to keep this part of my life private."
From imdb.com:
Justin Cuyugan's filmography –
1. "Love to Love"
… aka Love 2 Love (Philippines: English title: informal title)
- Fat Is Fabulous (2006) TV Episode …. Bruce
2. "Komiks"
- Momay (2006) TV Episode
3. "Encantadia: Pag-ibig hanggang wakas" (2006) TV Series …. Arkrey
4. "Etheria: Ang ikalimang kaharian ng encantadia" (2005) TV Series
… aka Etheria (Philippines: English title: short title)
5. Volta (2004) …. Percy Magtoto
6. "Kay tagal kang hinintay" (2002) TV Series …. Dave Imperial (2003)
7. Jologs (2002) …. Conductor
8. "Sa dulo ng walang hanggan" (2001) TV Series …. Dondie Leviste
9. Hey Babe (1999)








Possibly Related Entries:

29 Responses to "Who is this hunky Justin Cuyugan?"
Leave a Reply