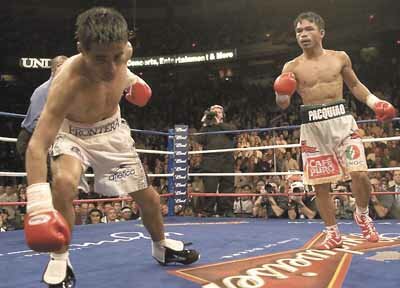 This post is so *NOT* gay.
For reasons unknown, last night I dreamt of the results of the upcoming Manny Pacquiao - Erik Morales boxing battle part 3 at Las Vegas, Nevada. It was a bad dream. In it, Manny, along with sorry hearts of all Filipinos worldwide, lost to Mexican El Terrible Erik Morales. I cannot comprehend it, but I woke up very sad.
My, my, now I'm having second thoughts on my being gay! Hahaha! Have a great Friday, and enjoy your weekend everyone!
P.S. Do pray for and support our dear Manny Pacquiao. I hope my premonitions are wrong.
UPDATE: November 19, 2006
Pinoy boxing champ Manny "Pacman" Pacquiao defeated Mexican boxing legend Erik "El Terrible" Morales after knocking him down thrice in the third round of their 12-round matchup in Las Vegas, Nevada Saturday (Sunday in Manila).
Yahoo! Great that the Manila Gay Guy is no fortune teller! Go, Pacman! Go, Philippines!








Possibly Related Entries:

Leave a Reply