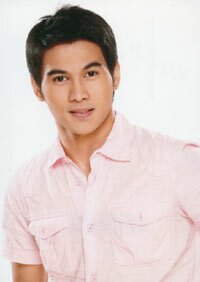 I have heard several times before about this newbie sitcom actor who apparently looks like Piolo. His name is Joem Bascon, stands 5′9″ and 20 years old. Cute face, not really that much of a Piolo look-alike for me, but handsome nevertheless. He plays "Bob" in ABS-CB's youth-oriented sitcom "Let's Go!"



Joem Bascon was discovered by accident, when his family home in Antipolo was used as the location for the primetime soap Hiram. Although the Bascon family lives in Mandaluyong, they also have a home in Antipolo, and when he was spotted by someone from ABS-CBN, Joem decided to give up on his original dream of playing competitive basketball and pursue a showbiz career.
This guy Joem is surely someone to watch out for! Perhaps in the 2007 Cosmo hunks? Let's wait and see!








Possibly Related Entries:

16 Responses to "Joem Bascon, upcoming hunk"
Leave a Reply