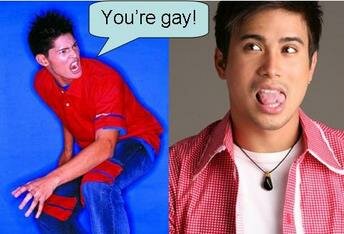 In last Wednesday's infamous radio show of DJ Mo Twister (Magic 89.9's Good Times with Mo), Borgy Manotoc spills the beans for the ultra-famous Big Brother housemate Sam Milby.
DJ Mo: Who are you going to tell this to: "Dude, we all know you're gay, admit it!"
Borgy: Sam Milby!
- o -
Thanks to Empress Maruja for the transcript below:
(Note: Not an exact full transcript)
DJ Mo: What's the size of your "wang"?
Borgy: around 7 inches (he admitted he's cut and there are times he never wears underwear depending on the pants he's wearing)
DJ Mo: When was the last time you ma$turb@ted?
Borgy: No, not this morning….yesterday morning at the shower….it' s a good thing to do when you woke up and your girlfriend is not around.
DJ Mo: "Dude, we all know you're ***, admit it!" (who are you going to tell this to?)
Borgy: Sam Milby!
DJ Mo: Worst-dressed celebrity?
Borgy: Gwen Garci
DJ Mo: Who's better in bed? ex-gf Sarah Meier (former MTV-Asia VJ) or his current gf, model Ornusa Cadness?
Borgy: Ornusa
DJ Mo: Celebrity you don't wanna work with?
Borgy: aside from my brother (TJ)…..Christian Bautista
DJ Mo: Celebrity who you think had gone under the knife/enhancement/ retoke?
Borgy: Pops Fernandez
DJ Mo: Name a model who doesn't look like one? (something to that effect)
Borgy: Robbie Mananquil
DJ Mo: Weirdest place he has done it with someone?
Borgy: In a photo studio, in between shoots/ while changing wardrobe
DJ Mo: Name 3 celebrities you did it with($ex) before?
Borgy: 1. Lana Assanin (when he was 15)
2. Victoria London (?)
3. and hold your breath…… VINA MORALES (Borgy said her name in a hush na parang hiyang-hiya, afterwhich, pandemonium broke loose in the radio booth, DJ Mo had a hard time believing this, as if di siya makapaniwala na papatulan ni Borgy si Vina. hihihi)
- o -
Off-topic but still interesting:
from FUNFARE by Ricardo F. Lo (philstar.com)…
"I know Borgy. Who doesn't know him?" said Vina. "But I'm not close to him. The farthest I came close to him was saying 'Hi!' That's all. But going to bed with him? Hello!"
Crying, "Foul!", Vina now wants an "explanation" from Borgy.
"He has to clear my name," said Vina. "What he did was damaging to me. If I have to talk to his mom, Rep. Imee Marcos, to make him correct things, I will."
Mo has been saying that guests he puts on the "hot seat" may or may not answer any question they deem "incriminating." It's a puzzle why a perceived gentleman like Borgy would kiss-and-tell, and on the air at that! He could have said, "No comment!" or not say anything at all.
"I want to make it clear that what Borgy said was not true!" repeated Vina who, as far as I know, is happily going steady with a very rich Chinese guy. "How could he!"








Possibly Related Entries:

41 Responses to "Borgy to Sam: "You're gay!""
Leave a Reply