Dear Jake,
Your name sounds so lovely. You know, back in high school, when I was just starting to discover my tendency to prefer boys over girls, my first crush's name was Jake too. Jake, Jake, Jake. Your name reminds me of fresh flowers wet with dew, in a lazy humid weekend morning. Now, you are the second Jake that made my heart squirm a bit, and skip a beat.
I saw you in person one time. I was in a smoking area in GMA. And while I was puffing the magic dragon, you magically appeared right before me. While I played dead-ma, I knew then that I will never ever forget that moment. I didn't know you smoked. But I was glad you did, and even borrowed my lighter. Oh, that was heaven.
When I look at you I feel young again. So thank you. Your images will remain etched in my mind, and I become young again.
Always,
Migs (na ume-echoz)
Jake, with such an angelic face…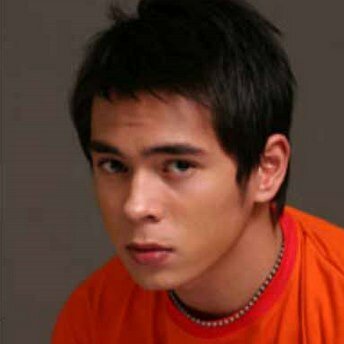 But with such an animalistic appeal…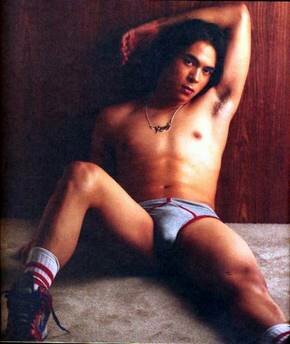 By the way, Jake… why are you cuddling with this guy? I'm so jealous.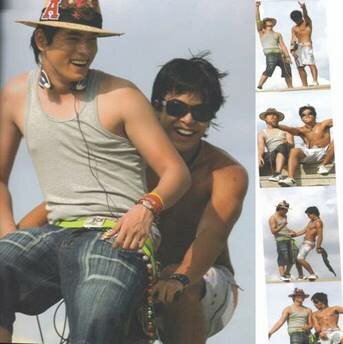 * * *
Jake Cuenca's bio (from GMA)
A. Basic Info
Name: Jake Cuenca
Nickname: Jake
Birthday: December 30, 1987
Birthplace: San Jose, California
Showbiz anniversary: March 2003
B. Favorites
Hobby: Listening to music
Sport/s: Soccer, boxing, frisbee
Actors/Actresses
Local: Richard Gomez, Lorna Tolentino
Foreign: Tom Cruise, Leonardo Di Caprio
Movie: Vanilla Sky
TV Show: That '70s Show
Singers: Fuel
Song: Shimmer
Music: Hip-hop, alternative
Book: Da Vinci Code
Author: Dan Brown
Expression: Dude
C. Personal
Adjectives that best describe you: Focused, determined, sensitive
Fashion: Eccentric
Fashion icon: David Bowie
Pet Peeves: Plastic people
Fears: Insects
Most treasured items: Rings
Goals: To receive an award for my acting
Role Model: Richard Gomez
II. Q & A
Why did you enter showbusiness?
This is my childhood dream
What do you consider as the turning point in your career?
Getting my first soap opera because it was challenging and I consider that my big break
If you weren't in showbiz, what kind of career would you have?
I would want to be a chef or a director
What do most people don't know about you?
I love kids.
What is your most unforgettable moment/experience?
Meeting Richard Gomez and Christopher de Leon
What are you most proud of?
My family
What do you value most?
My family, friends and career
What do you want to achieve?
An award for my acting
What is your advice to aspiring artists?
Always follow your dreams. Never give up.








Possibly Related Entries:

24 Responses to "Lovely, lovely Jake Cuenca"
Leave a Reply