Hey, how fast can you run? Can you dash a la Lydia de Vega? Then go zoom to Kopi Roti!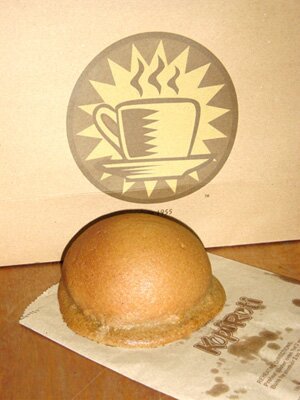 Image credit: 10sense.blogspot.com
For just 70 measly pesos, you get the coffee with milk and the yummiest-ever Kopi Bun. Annalyn.net describes it much better than I could ever attempt:
The star of the show is undoubtedly the kopi bun which is like a huge monay, only that it has a sweetish coffee crust and a creamy filling inside. The perfect accompaniment for this is their Singaporean coffee which has what looks like condensed milk at the bottom. It's supposed to make the coffee sweet when you stir it, and the blending is just perfect. The pairing of the kopi bun and the tea or special coffee will only set you off by P70 bucks which is already the price of a 16 oz drink in the more famous coffee chains.

My only additional tip is this: as soon as your Kopi Bun is served, don't wait too much. The bun is so good especially straight out of the oven. It is best enjoyed, mainit-init (warmish, hottish). Super yummy talaga, grabe!
This is so perfect for that after-dinner chitchat (with your lovely date? or with your girl/fag/hag friends) — much better than going to a busy, noisy Starbucks coffee shop that will rip you off at least double that of the Kopi Roti combo.
Kopi Roti has locations in Tomas Morato Ave. in Quezon City, Katipunan Extension (beside that barbeque place just before hitting Blue Ridge), and in Mall of Asia. Go, run for your kopi bun!!!








Possibly Related Entries:

2 Responses to "Run For Your Kopi Bun!"
gari Says:
September 22nd, 2006 at 3:14 pm

kopi bun tastes good.
kaya lang sikip ng pwesto
nila sa morato…at real
barley ang gamit sa malamig.

hehehe

jerome Says:
December 8th, 2006 at 4:05 am

filled with INC folks, daming homophobes…kunwari pa
Leave a Reply