Question: What is an "-er"?
Answer: Waiter, Driver, Construction Worker,…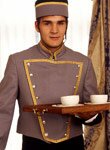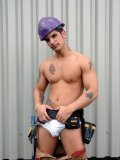 Among the many talents of this friend of mine is an uncanny ability to seduce straight men, and his specialty? The "-er" types. I told him last night I'll write about him here, and we were so laughing about the idea. So here.
On this first of a series, I'll tell you how I saw him, with my very own eyes, work on the waiter of a dessert place we went to several weeks back.
It was in Robinson's Place in Malate, one mid-afternoon. As we were deciding on what to order, this conversation ensued between him and the young, swarthy, rather cute waiter that attended to us:
"Hmmm,… anong masarap na coffee ninyo?" my friend nonchalantly asked the -er while surveying the items in the menu.
"Sir `yung iced coffee po namin, masarap!" the waiter replied.
My friend then turned his eyes from the menu to the waiter, then with a slight, naughty smile, said, "masarap ba talaga `yun?"
He darted a quick "Opo sir!"
Without breaking his eye contact with the waiter, he asked "Kapag in-order ko ba yung iced coffee, ibibigay mo sa akin ang number mo?"
The waiter blushed and smiled.
The iced coffee turned out bitter and ordinary, but that weekend, they were on their first date — sweet!
-o-
Next: the taxi driver who wanted it there and then.








Possibly Related Entries:

6 Responses to "Seducing the straight, "-er" types"
Leave a Reply