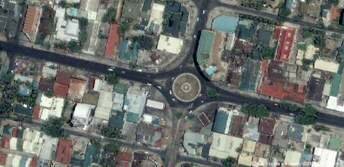 Inspired (or aroused?) by McVie's post on Mandy, a naughty young thing working as a masseur for a legitimate spa in Quezon City, I and 2 other friends went to the same legit spa. Maybe I won't mention the facility's name but as a hint (na sobrang madaling hulaan) I'm including a satellite photo of its location here (see photo above). Here's a blow-by-blow (!) account of what transpired.
Since we each went our separate ways, we also had different stories to tell. So here –
G's escapade
G had the most uneventful experience. The masseur he got turned out to be the head masseur, and therefore, no hanky panky for him. He had a relaxing massage, according to him, although his getting a VIP room had no use for his intended sneaky intentions. Hehehe! In fact since he got himself a VIP room, he missed going to the common wet area thus wala talagang excitement.
Migs' escapade
Because I was stingy, I went for the common massage room. And because G and J already got the last two available masseurs I was left with a masseuse. (Told myself that since it was a masseuse, better get the common room dahil wala namang mangyayari sa VIP room hahaha!). Well, it turned out it was a good choice because I had a chance to hang out in the wet area — you know, the sauna, steam room eksena. Suffice to say I had a good time playing hard-to-get (hahaha!) while the sauna men were staring and trying to catch my attention. They were waving their weiners left and right! Sorry, boys, I was just teasing! Since it was my first time there I did not plan to do any hanky panky… maybe in my next visit? Hehehe!
J's escapade
J turned out to be the luckiest. He got himself a masseur, "M" and he did give J a truly sensual massage inside the VIP room. After using irresistible massage tricks, and J already with a raging hard on, he asks "Sir, gusto mo ituloy na natin?" Of course J had no choice but to agree (hehehe!). "Secret lang natin ito, sir ha," said "M". How much was the extra service? "M" said "bahala na kayo, sir." So kuripot this J, he gave "M" a measly Php300 tip.
O di ba, exciting? hehehe!








Possibly Related Entries:

122 Responses to "Quezon City Spa Escapade"
Leave a Reply