I've been a secret follower of a blog of this UP Film student named Bikoy… then I saw a recent video blog of his. He's cute, smart, and confident — and now I think I love him na! Hahaha! Cute ng batang ito! Bikoy, are you by any chance gay? Marry me!!!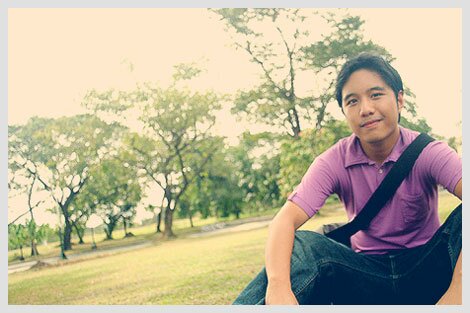 From his blog profile:
Victor Villanueva is an 18 year-old, college junior at the University of the Philippines - Diliman taking up BA Film & Audio-Visual Communication. He currently resides in Quezon City, Philippines. Most people nowadays call him Bikoy.
His mother and father come from Bulacan and Cavite, respectively. He spends some time with his family in their respective hometowns in the said provinces. He has one younger brother. His family currently fosters a baby girl.
He is actually an introverted shy boy, though he has learned how to overcome that at times, especially when he is tasked to publicly speak to other people. He enjoys the company of good friends. He is also a morning person, who loves waking up at dawn. You could take that to mean that he's not fond of the night life as much as his fellow young people. He's not very sporty, though he enjoys and practices swimming whenever he has the chance.
He enjoys taking photographs, writing, watching films and traveling. He also enjoys eating Chinese food and Filipino dishes with coconut milk. He enjoys acting occasionally for his Mass Comm friends' various productions. He dreams of being able to travel all around the Philippines and the world. He dreams of setting up and managing a Filipino film production outfit. He dreams of a free, just and progressive Philippines.
UPDATE: According to one of his blog posts, Bikoy is NOT gay. Haaay. At least not YET. Hehehe.








Possibly Related Entries:

10 Responses to "I Heart Bikoy!"
Leave a Reply