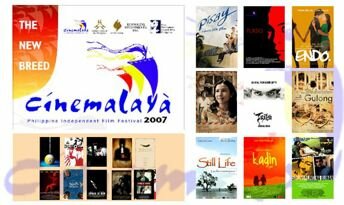 Are you a movie buff?
Well, aside from World Peace, Migs the Manila Gay Guy also champions the arts and culture (o di ba!) especially Pinoy arts and culture. And it's Cinemalaya time once again, kaya excited na naman ako!

CINEMALAYA is not about creating a new movie cult. It's about opening wide the door of opportunity so that new filmmakers with new stories to tell can make their films and show them to an audience. It's about creating a level playing field for new filmmakers to write, produce and direct, compete and exhibit their films irregardless of who they know in the film industry and how much money they have to produce the work. It is about affirming the faith of the intrepid Filipino filmmaker who sees - beyond the threats and uncertainties in the horizon - an opportunity for discovery and endless possibilities.
And for bloggers out there, gay or not, there's this Cinemalaya Critique Contest that my dear friend Gibbs Cadiz is organizing. It's simple! Just watch one (or more) of the Cinemalaya films in competition (troop to CCP now!), then blog a critique about it. A panel of judges will review all Cinemalaya critiques and announce the winning post by August 1, 2007. By the way, yours truly will be one of the judges! Winner takes home Robinson's Gift Cheques worth Php2,000 — and will have a chance to meet me in person (chos! hahaha!).
More details on this contest at Gibbs' Cadiz site. What are you waiting for? Rachel Ann GO!
The podcast version of this post here: (2 min 35 sec)


Powered by Podbean.com
Download this episode (right click and save)








Possibly Related Entries:

6 Responses to "Cinemalaya Critique Contest"
Leave a Reply