For the third straight day, I was at Greenbelt 3. My friends and I went to Blue Ginger ("taste of Thai") near the cinema area. Lo and behold, a Mr. Nice Guy waiter served us — all smiles, and yes he's such a darling!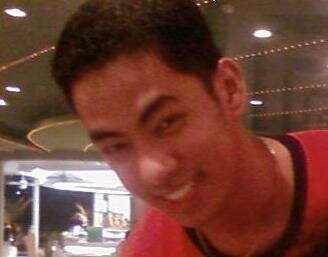 Cloyd was his name. He looks much more attractive in person, and he has such a nice aquiline nose, paired with that cute, cute smile. His game personality, evidenced by his agreeing to pose for my camera, adds to his charm. He may not be the cutest waiter there is, but he sure is one interesting personality.
Visit Blue Ginger, and look for him there. Start a conversation by saying, "hey I saw your picture in the internet!" O ayan, I helped you with your intro spiel ha! Go, go, go! Hehehe!
Another picture of Cloyd, click to enlarge:









Possibly Related Entries:

18 Responses to "Mr. Nice Guy Waiter at Blue Ginger"
Leave a Reply