Tell us about your first kiss. Who was it with? How old were you?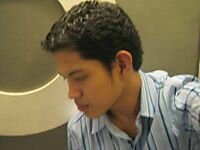 From Patrick, the Galavantiator. I was 11, he was 10.. He went to the same school where I did when we were in Grade School. He's the first guy I've kissed, I was his. This guy and I are friends, we've been goin' to each other's houses.. we hang-out, kids' stuff, and simply having fun, one day, we decided to study at their house for the finals so I brought my school things over and just when we are about to end the day, his hand went to my waist.
I didn't know what it meant.. I did not refuse but I know it's not "friendly".
I replied back.
So I had my hand around his waist, and we were tickling each other but we were smiling at each other. weird!
Anyway, the instincts were telling me to leave, but when I was to stand up, he pulled me to the bed, and the next thing I knew, we were kissing.
Guess what, I stayed another hour.
-o-
What a cute story!
The first kiss (in the mouth) of Manila Gay Guy was also with a fellow guy… I was 23, he was 28. His name was Frank, and we were officemates. We were having a fun beer drinking session at my place, and we both got really drunk. That night, as we were about to doze off, it happened. And it was such a sloppy wet and sucking kiss! Ugggghs! I cringe as I remember it. Now, we're still friends and he's married. And I am a single Manila Gay Guy. LOL!
-o-
How about you? Tell us about your first kiss. Who was it with? How old were you?
Technorati Tags: gay, kiss, first kiss, gay kiss








Possibly Related Entries:

19 Responses to "How Was Your First Kiss?"
Leave a Reply