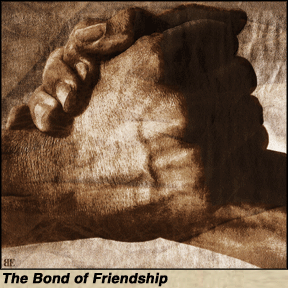 The very first time I came out was to another gay friend. One Holy Week, several years ago, we went hiking to the mountains of Batad, Ifugao. Over Don Pedro and Sprite, he opened up to me and said he was actually attracted to guys. I was dumbfounded at first. He was the masculine, "walang bahid" type, that's why. Eventually I told him I too was attracted to guys. While we never became an item, the friendship just grew exponentially from then on. There was a time we fought our gayness, and we did it together. And together too, we learned to accept and celebrate it. Even years after and oceans away (he's now an OFW), our friendship remains intact, alive, and if I may say, fresh.
I wanted to share this here because some of us may be doubting the longevity of gay friendships. I even read in a gay forum of some people saying that there can be no true gay friendship due to competition for men and the innate idiosyncrasies of gay life. I totally don't believe in that. I believe healthy gay friendships are possible. And I know that from experience. Cheers!
This is for you, my friend. And to all, let's celebrate gay friendship.
Hawak Kamay, Yeng Constantino
Minsan madarama mo kay bigat ng problema
Minsan mahihirapan ka at masasabing "di ko makakaya"
Tumingin ka lang sa langit
Baka sakaling may masumpungan
Di kaya ako'y tawagin
Malalaman mong kahit kailan
[chorus]
Hawak-kamay
Di kita iiwan sa paglakbay
Dito sa mundong walang katiyakan
Hawak-kamay
Di kita bibitawan sa paglalakbay
Sa mundo ng kawalan
Minsan madarama mo
Ang mundo'y gumuho sa ilalim ng iyong mga paa
At ang agos ng problema'y tinatangay ka
Tumingin ka lang sa langit
Baka sakaling may masumpungan
Di kaya ako'y tawagin
Malalaman mong kahit kailan
[repeat chorus]
[bridge]
Wag mong sabihin nag-iisa ka
Laging isipin meron kang kasama
Narito ako oh, Narito ako
[repeat chorus]
Sa mundo ng kawalan
Hawak-kamay, Hawak-kamay
Sa mundo ng kawalan
-
Technorati Tags: Gay, Gay Friendship, Friendship, Hawak Kamay, Lyrics, Yeng Constantino, Hawak Kamay Lyrics








Possibly Related Entries:

3 Responses to "Cheers to Gay Friendship!"
erick Says:
November 29th, 2006 at 6:25 pm

nice music!!! thanks migs…
d2 ko lang naririnig sa TFC yan eh!!!!

Alex Says:
November 30th, 2006 at 4:54 pm

Migz,

Thanks a lot!!!
Your site is great.
Nakakaadik!!!
It's a great site to really express what's inside me and for the other brothers ina hiding.
Keep it up!!!

MORE POWER!

br0wn_c0w Says:
December 5th, 2006 at 2:25 am

I'm so lucky to have a fabulous gay barkada I dearly love!
Leave a Reply