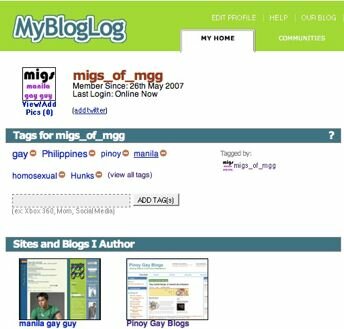 Are you a blogger with a MyBlogLog account? Well, I am too! Add me up as a contact, or join my community! Thanks!








Possibly Related Entries:

3 Responses to "Are You On MyBlogLog?"
khentutz Says:
May 28th, 2007 at 3:21 pm

i am a member of myblog:)
http://khentutz.wordpress.com

Alvin Says:
May 28th, 2007 at 8:10 pm

Good thing you removed the MyBlogLog widget from the sidebar. Mahihiya kasi kaming bumisita dito pag biglang makikita pagmumukha namin na binabasa pala namin itong site mo.

Hopefully MyBlogLog will improve their privacy features. They already know these issues.

L.A Says:
May 29th, 2007 at 3:36 pm

Migs,

You can put the MyBlogLog wigdet on sidebar para automatic add-up na lang ng contact from it.

Glad you have one Add kita!
Leave a Reply