Some readers think that the photo of Dingdong's pointy thing which I published recently, was all my doing with the help of some Photoshop Magic.
Let me clarify — I did not do anything with the photo, except to crop it. The original is this (click to see larger version):

Now, I was trying my very best to look for other supporting evidences, until I bumped into this very old pic of him, perhaps taken during his TGIS days (or maybe even earlier):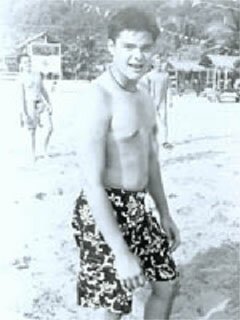 Nothing conclusive, but you can see a hint in this pic that he has that tendency to develop rather pointy nips.
Now, Dingdong fans, don't fret just yet. Pointy nips, or not, Dingdong is still a lovable dude. The same way when I say someone is rumored to be gay — it doesn't mean we should hate him already. Geez, *I* am gay! So one advice: lighten up! Sige kayo, wrinkles are expensive to remove! Hehehe.
Cool lang kayo; being cool is already a contribution to world peace!








Possibly Related Entries:

20 Responses to "Dingdong Dantes' Pointy Nips"
Leave a Reply