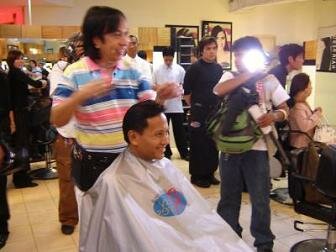 A friend texted me late last night - "Gising ka pa? Bilis, watch GMA 7, I-Witness." It turns out a documentary about Ricky Reyes ("Ang gandaaaa…!") was showing. It was entitled, "Ang Mother ng Ganda." I caught the portion where Howie Severino, host/writer of the docu, was interviewing "Mader Ricky." It was an eye-opener. The Parlorista Ng Bayan has got some hard-hitting ideas in that hairstyled head ha! The gay guy's got wisdom. And his rags-to-riches story is just perfect for the Pinoy Audience — we Filipinos just can't resist the inspiration of a poor man turned millionaire, even if he's gay.

After watching the documentary, I do think Ricky Reyes is one of the Pinoy gay icons who shape how gays are perceived in this country. People may not agree with some of his ideas but I do believe he deserves respect for all his accomplishments, good work, and most of all, for his own way of uplifting the perception of the Pinoy Parlorista. He addressed gay guys on how they should behave in public, and I quote loosely, "Huwag ninyong pabayaang pagtawanan kayo ng mga tao, na magmukha kayong unggoy sa hawla…" There were several other interesting sound bytes, too bad my memory is failing me at this moment.
I wish I can get a copy of that episode. Howie, in his blog, even commented - "(Ricky Reyes) turned out to be a complex character with surprisingly conservative views about gays, women and politics." Anyone here who was able to capture that episode and can perhaps share via YouTube?
(Photo credit: Howie Severino's blog)








Possibly Related Entries:

17 Responses to "Ricky Reyes: Ang Mother ng Ganda"
Leave a Reply