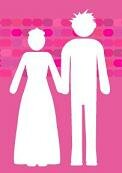 I was with some friends last night, and they were abuzz about my acquaintance Allan coming home albeit briefly from his OFW stint. Allan is the gay guy who got married early this year without the girl knowing her hubby's true sexuality. (His story here.) Allan married the girl under extreme pressure from his domineering mother who seems to control every aspect of his life (save for his sexual orientation). When Allan left for his OFW stint, the wife stayed on and domiciled with the mother-in-law. Not unexpectedly, when Allan came back for a short vacation here in Manila, daughter-in-law and mother-in-law were not in good terms.

"Sana di mo na pinakasalan yan!" quips the mom, while Allan is bursting inside with "Eh sana di mo ako pinilit magpakasal."
Scene cuts to…
Allan and friends in Government Bar in Makati. Swigging a beer, he tells his friends "Sige mauna na kayo umuwi. Hanap pa ako ng take home." All these while, at home, his poor wife is waiting, and his demented mother growling.
Ladies and gentlemen, presenting… one f*cked up life of a gay guy. No one's fault but his.








Possibly Related Entries:

17 Responses to "Gay In Aeternum"
Leave a Reply