"Another One Bites The Dust!" - what does this phrase mean? Many people know this as a song by Queen. It is, however, little known that the phrase actually dates back to Homer's Iliad, where it was used to mean that a person died, "…the ground rose to meet him, and he bit the dust."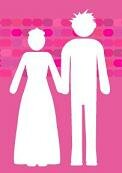 This January, an acquaintance of mine — let's call him Allan, and yes, he's gay — is biting the dust. He's getting married. I repeat, a gay man getting married, and it's not a gay wedding. You get the picture, right? A gay man, a woman, in a church getting married — all along the woman knowing nothing about her groom's sexual preference. I say this qualifies for the same phrase, "and yet another one bites the dust."
The Interview
I had a chance to have a short chitchat with him recently, here's how the conversation roughly turned out:
Migs: So you're getting married! Are you then "going straight" all the way?
Allan: Next question please!
Migs: Oh. Does she know,… I mean, that you're,… mmmm… that you are gay?
Allan: No!
Migs: So why are you getting married?
Allan: (shortened version of answer) I've had so many relationships with men and none really lasted. Relationships between men therefore do not really last. I'm getting older, so I guess this is the right thing to do so I ensure don't get old alone.
Migs: Do you know that when you get married without telling her about your sexual preference, that is tantamount to deception and a very valid ground for annulment even according to Church laws? [yes I know a little bit of Canon Law, gents.]
Allan: Better! So puwede ko pala ipa-annul!
Migs: [Groans.]
What do you think?
By getting married to a woman without even telling her about his true self, Allan is committing suicide. And maybe I am over-reacting, but really, that's how I feel. To get married out of fear of getting old alone? Ain't that a whole load of bull****? And the girl — I pity her! Tell me dear readers, what do you think about this issue?








Possibly Related Entries:

23 Responses to "Another One Bites The Dust"
Leave a Reply