[Post viewed 3,203 times]

The Promise
When we got back to Manila, we had a lengthy discussion about what happened. He asked me point-blank if I have other intentions for him other than being best friends. I denied it to death of course since, despite the fact that I would now fantasize about him, I really really honestly do not want everything to get into the next stage. Yes, you might want to say that I am just in denial stage – no, that's not true, I know I am bisexual, but I don't want to ruin my friendship with my best friend. He looked mad, very disappointed, but in the coming days we would still hang out together, stay on the same bed, BUT, always with the condition that I would not kiss him again. He would always remind me that he would like to be with me only if I do not kiss him in lips.
The Hard-On
One day though, I couldn't keep the promise. He was struggling a bit, but suddenly I found myself kissing him again and opening his shirt and kissing his breast…that was the first time that I felt he had a hard-on because for all the times that we were together, he never had a hard-on. Ako naman, I would always have it even if we would just pee together. No matter how physically close we were (literally), he never really gotten 'hard', if you know what I mean. And that explains why I am curious about him – if he's gay, the closeness itself would make it happen to him right? After all, we would embrace each and sleep together and he would be on top of me (usually just to rest, nothing else), and so on…anyway, just trust me that you would have it if you were in his place. Going back to the story, after I touch his dick, I started to zip his pants down, but he suddenly held my hand back and pushed me away. He was mad, very very disappointed, and he started asking me again if I am gay. These are not acts that best friends do, right? He asked me many times.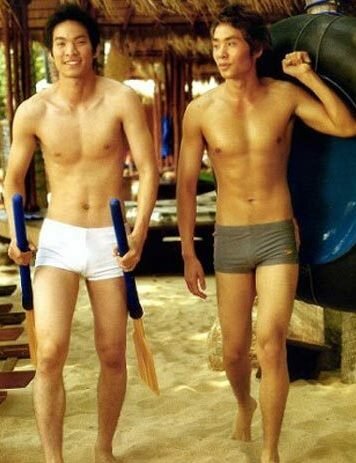 "I am not gay."
For a month, I would apologize to him and, to cut the story short again, we would get back to our normal selves – resting together, hanging out in some good restaurants in Makati, and hugging each other. I had to convince him though many many times that I am not gay that, yes I may not be typically male, but at least I am not sexually drawn towards men. Since then up to now, everything is normal and I am very happy that it is. I've always tried to forget about my physical attraction because it feels really good that our friendship is "pure" (please don't judge me because of this, I know the ramifications of this word) because that's how he wants it to be. However, every time I am with him, I would really make things that hopefully will make him do "it" as well. All the things that a "normal" gay person would fall into did not work really – he's not interested in my dick at all, to put it bluntly, although we would embrace each other tightly if given the chance.
Questions. Questions. Questions.
Perhaps he's gay but he's not attracted to me physically? Puede ba yun? But he is also willing to do things that are not "normal" among straight male best friends. Would straight male best friends hug each other inside the room? This should be qualified, of course, with the fact that it's me who's always doing the first motioning. If I wouldn't do it, he wouldn't. If I would not ask him to come close to me in bed, he would not do it; I would sometimes pull one of his feet up so that it would cross over my body. On my part, it feels really good if he's close to me. I can't just say it's pure gay love. I really consider him as my best friend and I wouldn't want to lose him just because he knows I am gay. I know he loves me, but what I can be sure of is he cares for me as his best friend. Aside from that incident when he got 'hard' there was never a time when he had another one – and that made me think – why wouldn't he have one when he's on top of me for an hour and we would rest that way? Am I really that sexually unattractive such that he wouldn't feel anything sexual towards me during those times?
I don't think I am an aberration but, as I earlier mentioned to you, I trust you on this. I just need someone (or a few people who can email me with frank and non-judgmental answers) to "talk" to me. Opening up to the world and tell everyone I am gay is definitely not an option. I am very with my family and I love them tremendously. They are my future. I can always live with this kind of situation because I have always lived this way!!
But I just want to know about my best friend. I love the fact that he has stories with women before and that he is also very loyal to his wife. But perhaps this is something that even makes me agitate more towards him? What do you think?
Tondomanila
- o -
MGG readers, feel free to share your mind with fellow reader Tondomanila.
[Photos in this post were inserted by me, and are not part of Tondomanila's email.]
Pages: 1 2








Possibly Related Entries: