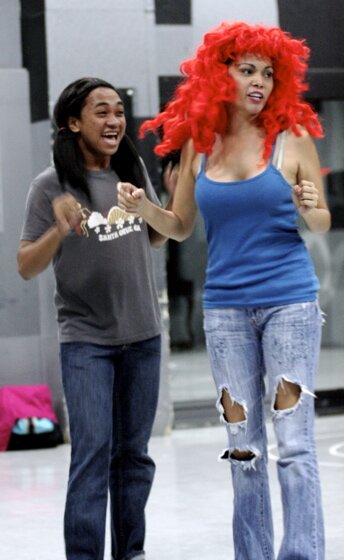 Zaturnnah na! (In the photo: Nar Cabico as Didi, and K Brosas as Zsazsa Zaturnnah in one of their rehearsals.)

Yes, ladies and gentlemen, I'm excited about the 5th (and reportedly last) run of Zsazsa Zaturnnah Ze Muzical. I think you should be too! It opens on Friday, June 15, at the RCBC Plaza in Makati City. I'm watching this Saturday! Who else is watching? See you!
And for something na napagkatuwaan ko lang, hear me sing the opening stanze of one of my favorite songs in the musical! Hehehe! Sensya na tao lang! World Peace!

Download this episode (right click and save)
Pahabol: This 5th staging will run on June 15-July 1 (Fridays-Sundays only). Tickets are available in TicketWorld outlets in mall-based National Bookstores. (Prices: 500, 700, 800 pesos)








Possibly Related Entries:

28 Responses to "Zaturnnah!"
Leave a Reply