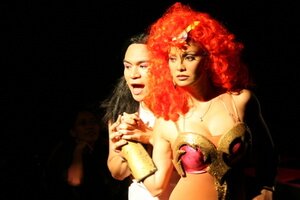 Yes dear readers, while my day job has been quite demanding and thus a flurry of activities for me with work spilling to till midnight and beyond, I have never lost hope. In fact, as mentioned in my previous update, I watched the opening night of Zsazsa Zaturnnah ze Muzical's 4th run. It was such a treat!
1. Those who were able to watch the previous runs and got disappointed with the movie had reasons to be so. Well, my first reaction after seeing the musical was utmost and raw hatred towards Mother Lily and her cohorts — how dare them bastardize Zaturnnah! But after a few minutes, of course, I calmed down and somehow understood that it's all so that they do whatever they can to ensure commercial success for the movie version. Too bad, however hard they tried, it wasn't really enough. Poor Mother.
2. For straight people out there, go and watch Zaturnnah ze Muzical. The music is fantastic (hello Vince de Jesus! He's a reader of MGG, and musical director, composer and lyricist of Zaturnnah), the actors were mostly brilliant (I love you Eula! I love you Joey Paras!), and it is funny as funny can get. The theatre is small so you get that intimate feel of a university-based play yet the performance is — no questions asked — 100% professional.
3. For gays and lesbians — kill yourself now if you have not seen this musical. Yes, kill yourself. Or, better yet, go watch it, and savor the fun of seeing yourself in the characters of the play, plus life lessons you surely would not want to miss. I tell you that in the midst of endless laughters, I did cry at least three times throughout the show. If I were you, magkamatayan na , just don't fail to watch this landmark show. (You can get tickets at Tanghalang Pilipino and CCP - call 8321125, and hope there are still available tickets!)
P.S. After the opening night show, I was able to meet the newest "Dodong" of the show, uber sexy Janvier Daily. Hunk alert!!! Took his pics, so that I can salivate together with you dear MGG readers. Watch out for his pics here!








Possibly Related Entries:

12 Responses to "Zaturnnah ze Muzical Rocks!"
Leave a Reply