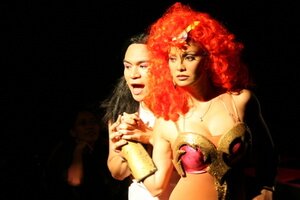 Zsazsa Zaturnnah is going to zoar once again in its 5th run! Why would people run and buy tickets for this musical? Well, well, well (said while holding a wine glass between ring and middle finger, palms up, swaying left and right, chin up, with attitude) here are some reasons!

1. Eula Valdez will continue to play as Zsazsa Zaturnnah - but this time, she will have an alternate. It is none other than…. K Brosas! K is the lead singer of the group K and the Boxers, which was formerly known as Gladys and the Boxers with K, and also a former lead singer of The Crucibles band. I think it is a good match, can't wait to see K as Zsazsa Zaturnnah!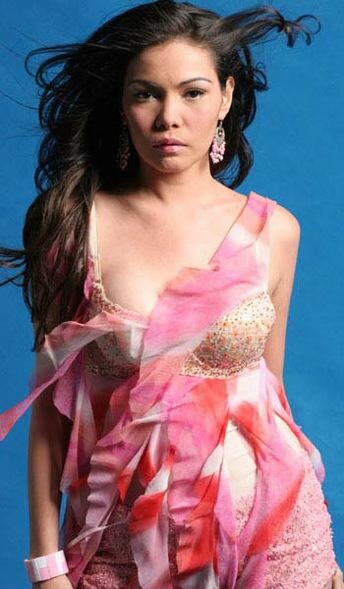 2. There will be three hunky Dodongs that will alternate each other: Arnold Reyes, Lauren Novero, and Janvier Daily! Wooo-hoooo! (I'll watch at least 3 shows just to catch each one of them!)

(Photo above: Janvier Daily)
3. Vince de Jesus, the musical director himself (and MGG reader!), will alternate with Tuxq Rutaqiuo in the role of Ada. It would be interesting to see Vince perform his very own songs. Will definitely plan to see a show with Vince as Ada!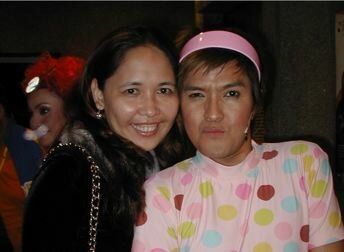 (Photo above, credit to: http://slvrdlphn.multiply.com, Vince as Ada on the right)
4. This 5th run will be the last run of the musical. Rumors have it that Carlo Vergara is about to launch the 2nd installment of Zaturnnah's story. Exciting!
The 5th run of the Zaturnnah musical will take place in the Carlos P. Romulo auditorium of the RCBC Plaza in Makati City, from June 15 to July 1. Word is that there will also be Thursday night shows, for a total run of 18 shows. Several groups have bought entire shows and are now selling tickets. For ticket inquiries, call Tanghalang Pilipino at 832-3661 or 832-1125 locals 1620/1621.








Possibly Related Entries:

19 Responses to "Zaturnnah ze Muzical - 5th run!"
Leave a Reply