Pensive Allen…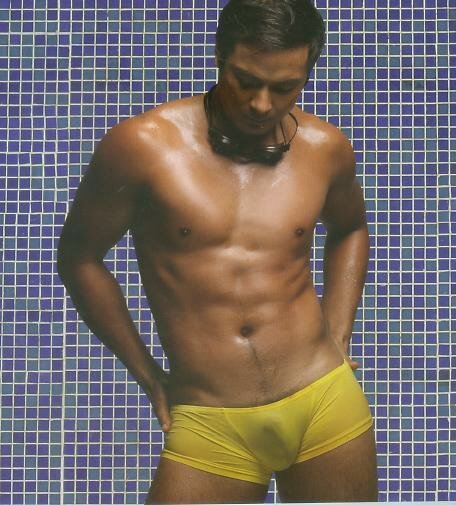 More pics…

Sensual Allen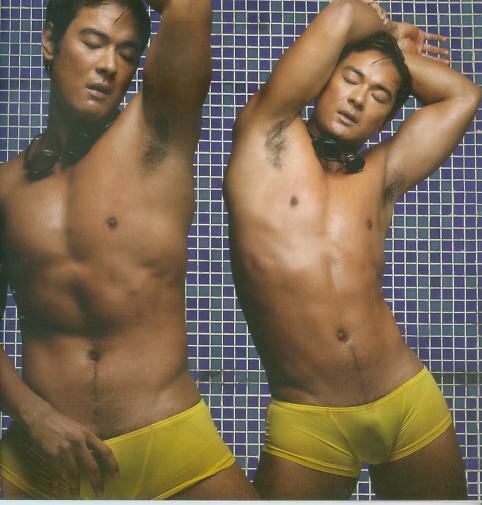 Sexual Allen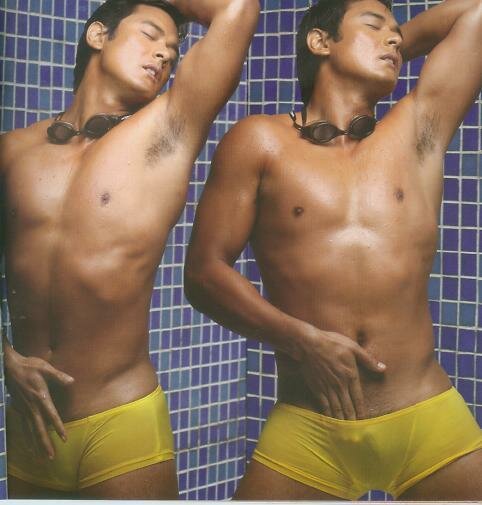 …and gay Allen? LOL! (napasobra ang emote!)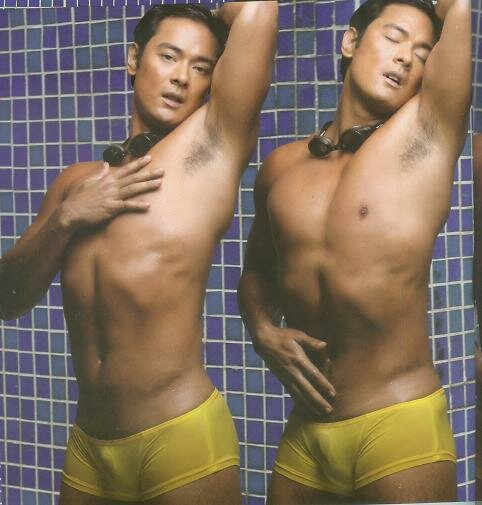 Here's a recent article on Allen Dizon from Manila Bulletin:
Allen Dizon bares his thespian skills in 'Twighlight Dancers'
By Walden Sadiri
Actor, businessman and drag racer Allen Dizon knows that it takes time to tune and tweak his two-door hatchback Honda Civic and turn it into a 10-second car from its current 11–second car status. This is the thrill and challenge of his motor sport, the same exhilirating experience he's got from honing and polishing his acting career.
Unlike his fast car though, he's more concerned with his showbiz career which he wants to gear towards the road of stability and longevity. His goal is to have staying power and he knows that becoming a serious and versatile actor will be the key to his success.
One of the only surviving sexy-actors from the mid90's, Allen's track record in showbiz, that includes his movie projects, television series and stage plays, has manifested that he has outgrown his "pa-sexy" of just baring flesh on the big screen stage; keeping true to his word that his sexy image was just his stepping stone into showbiz. Though he doesn't have qualms accepting sexy roles, he and his manager Dennis Evangelista have always made sure that he gets into worthwhile film projects.
An example of such projects is Mel Chionglo's "Twighlight Dancers" which is scheduled to open in local theaters onSept. 20. The movie is produced by Centerstage Productions and written by Ricardo Lee. Allen gave the thumbs up to his role in the movie because it was, for him, very challenging. He plays Alfred, a "has–been" macho dancer on the way out of the limelight as his younger friend slowly becomes the more popular macho dancer.
"Alfred is retiring as a macho dancer and he is looking for a more respectable job for his family," Allen explained in Tagalog. "His other conflict is also trying to win his wife back."
Allen Dizon's acting skill is pitted against renowned drama actress Ana Capri who plays his deaf and mute wife in "Twighlight Dancer." Another challenge for him was his role as a wife beater.
"It wasn't easy because it's a physical scene and there's the possibility of hurting your co-actor. But Ana's really great to work with," he said of his first time role as a wife–beater.
A first for Allen is that he doesn't have any love scene in "Twilight Dancers" which surprised and excited him at the same time. He said that he was really focused on his character and he hopes that the public would notice his acting more than his body this time. But he still has provocative scenes in the movie since he plays a macho dancer.
In preparing to play their roles as macho dancers, Allen and his costars went to gay bars and watched real macho dancers at work. He also got tips from a once popular macho dancer turned into a much sought–out Dance Instructor, the real person his character Alfred was based upon.
"I realized that it wasn't easy being a macho dancer. I was taught how to dance and it was physically taxing. I even had to lose weight. And I was taught that on stage I should be on my own world while dancing and that I shouldn't look at the audience," he shared.
According to Allen, watching a macho dancer at work would have been embarassing if he didn't have an open mind. But since it was required of him to research his character, he took the experience as a learning process.
"In real life, I don't think I can do their job….but they were really good dancers and some would even do frontal nudity," he related.
He pointed out that he could relate well to the persona of his character Alfred in terms of his hot– temperedness. He admitted that he could easily blow a fuse.
"I understood well Alfred because of his problems. I saw part of me in him and that helped me portray Alfred better."
Though "Twighlight Dancers" tackles the life of Alfred, it is also a melting pot of different life stories that moviegoers could relate to. There's the story of a businesswoman called Madame Loca played by Cherry Pie Picache who's a frequent customer in a gay bar. She doesn't only frequent the macho dancing shows but hires some of the dancers to do dubious jobs like gun–running. Then there's a notorious town mayor (Joel Lamangan) whose dirty laundry includes being a cross–dresser at night, a filmmaker (Jerry Sineneng) who lures men by promising them stardom in his next movie and an OFW (William Martinez) who spends his money on nightly macho dancing shows.
Playing the best friend of Allen Dizon in the movie is Tyron Perez as Dwight, a promising macho dancer. Also in the film are Lauren Novero, Terence Baylob, IC Mendoza, Kris Martinez, Nor Domingo and Arnell Ignacio as the club owner Taurus.
So how was it working with one of Philippine cinema's revered directors, Mel Chionglo?
"I've worked with Mel Chionglo before but this is a more serious film. He's okay to work with. He likes everything to happen naturally in every scene, in how you deliver your lines and your emotions…when you come to the set and after you read the script, whatever you feel about it, that should come out in the scenes you're going to do," he expressed.
With regards to the newcomers he worked with in "Twighlight Dancers," he said that he welcomed them with open arms to the realm of showbiz. He also saw himself in them when he was still starting in the movies. And for him they have also made a good move by making this film a stepping stone to launch their respective careers.
"I talked to them about how I started in my career and told them to be just patient and work hard. I also told them to get along well with people and to take acting seriously," he shared.
Before its opening in Metro Manila theaters, "Twighlight Dancers" is going to have its worlwide premiere at the Toronto International Film Festival today, Sept. 8, and it will have its regular run on Sept. 9, 11, 13 and 15. Afterwards it will head out to the Chicago International Film Festival.
"I'm very happy that I'm going to have a chance to travel because of 'Twighlight Dancers.' This movie has given me much blessings and it was more than I expected."
It could be remembered that Allen Dizon's movie entitled "Mulata" with Aya Medel was screened at Bangkok, Thailand during the Asia-Pacific Film Festival in the year 2000. He was also nominated in the Best Actor category in the said filmfest.
At the moment, Allen Dizon is in TAPE, Inc.'s afternoon drama series entitled "Pinakamamahal" which stars Oyo Boy Sotto, Marian Rivera, Pauleen Luna, Danilo Barrios, AJ Eigenmann, Danica Sotto, Maritoni Fernandez and Gary Estrada. Here, he is also a wife–beater. His blind wife is played by Jennifer Sevilla.
"How I wish I could take a vacation while in Toronto but I have to come back for my soap opera's tapings," he smiled.
Allen Dizon is also expanding his buy and sell car business as he puts up a new showroom in Sta. Maria, Bulacan. He plans of also incorporating an accessory shop as well as a car service division in his showroom.








Possibly Related Entries:

24 Responses to "Allen Dizon in Bakat Yellow"
Leave a Reply