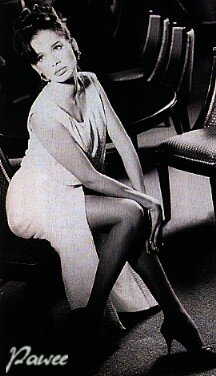 In the middle of a Pinoy gay lovers' quarrel due to trust issues, expletives had been flying left and right, when suddenly an aggravated partner (let's call him Gay #1) blurts out with all emotion:

If I want, I do!
If I won't, I don't!
Gay #2 stops to analyze what was just said and breaks in laughter. Gay #1 is confused, "Did I say anything funny?" Thanks to that accidental comic relief, the lovers' quarrel had a literally happy ending.
Gay #1 and Gay #2 are my friends, and it's so much fun being with them. And Gay #1 is so funny without even trying, everytime I'm with him I'm reminded of Melanie Marquez, the Queen Of Malaprop. Here are some of Melanie's crazy quotes:
* * *
And the Base of My Observation Is …. (showbiz stripped May 14, 2005 GMA Ch. 7)
* * *
My brother is not a girl; he's a gentleman.
* * *
"I keep my crown in the voltage"
* * *
That's why I'm a success, it's because I don't middle in other people's lives.
* * *
Don't judge my brother; he's not a book.
* * *
I won't stoop down to my level.
* * *
Hello? Bulag ka ba? Bingi ka ba? Are you dep?
* * *
'Yung STD, baka sa maruming toilet lang niya nakuha yan.
* * *
Eh, ikaw ba naman, durugin ang ari mo… Pag di ka naman manutok ng baril.
* * *
We are lovers, not fighters.
* * *
Kapatid ko pa rin siya. We are one and the same.
* * *
I don't eat meat. I'm not a carnival.
* * *
Eto na po ang pinakamaligayang pasko at manigong taon sa inyong lahat. (During her acceptance speech at a Metro Filmfest awards night where her bioflick, directed by her late father Temyong Marquez, won an award.)
* * *
Sumasakit ang migraine ko.
* * *
Ang tatay ko ang only living legend na buhay!
* * *
Period na talaga; wala nang exclamation point. (When asked on S-Files if her present husband, Adam Lawyer, is her Mr. Right.).
* * *
At a talk show after her break-up with Derek Dee, Melanie was asked if she had some words for Derek's mother (whom she partly blamed for the separation). "Oo nga," said Melanie, "pero i-English-in ko para maintindihan niya." She looked into the camera and, with the peremptoriness of royalty, said, "And to you, Mrs. Dee, I have two words for you. Ang labo mo!"
* * *
Lastly, many people think Melanie "has toyo" — she herself "announced" it in this video:








Possibly Related Entries:

8 Responses to "Melanie Marquez: May Toyo Ako!"
Leave a Reply