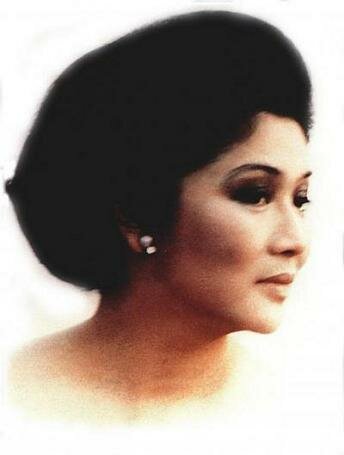 I have a secret fascination for Imelda Marcos. And there are two reasons: (1) she is the ultimate classy fab woman the Philippines has ever produced; and (2) her quotable quotes are simply out of this world! Watch that documentary "Imelda" and you'll know what I'm talking about.
Some amusing quotes from Madame
"Daig ko pa si Cinderella." — cited in Beatriz Romualdez Francia's Imelda: A Story of the Philippines
* * *
"Win or lose, we go shopping after the election."
* * *
"If you know how rich you are, you are not rich. But me, I am not aware of the extent of my wealth. That's how rich we are." — after promising to give $800 million to poor Filipinos if she becomes president, quoted in The Philippine Daily Inquirer, March 1998
* * *
"I was born ostentatious. They will list my name in the dictionary someday. They will use 'Imeldific' to mean ostentatious extravagance." — cited in an Associated Press report, April 1998
* * *
"Why should people be afraid that we use a few small pellets of uranium at the nuclear power plant in Bataan? Don't they know that we're surrounded by uranium? We have the world's fourth largest deposits of uranium. Yes, we're all radioactive — must be the reason why we have so many faith healers!" — on nuclear-generated power, February 1985
* * *
"I am my little people's star and slave. When I go out into the barrios, I get dressed because I know my little people want to see a star. Other presidents' wives have gone to the barrios wearing house dresses and slippers. That's not what people want to see. People want someone they can love, someone to set an example." — from the Los Angeles Times, October 1980
* * *
"Never dress down for the poor. They won't respect you for it. They want their First Lady to look like a million dollars." — cited in Beatriz Romualdez Francia's Imelda: A Story of the Philippines
* * *
"Our opponent [Cory Aquino] does not put on any make up. She does not have her fingernails manicured. You know gays. They are for beauty. Filipinos who like beauty, love and God are for Marcos." - on why Ferdinand Marcos would win the gay vote, January 1986
* * *
Finally, this video of Imelda explaining her "Seven Portals to Peace and Order" — really super out of this world!








Possibly Related Entries:

3 Responses to "Amazing Imelda"
Frances Says:
November 23rd, 2006 at 12:33 am

nakakaloka, i saw this docu, hehehe pero deep inside i love her talaga

rhoda Says:
January 22nd, 2007 at 10:47 am

dba sa kanya din galing na "AYAW NI IMELDA NG PANGIT? GUSTO NIYA PURO MAGANDA ANG NAKIKITA NIYA" referring to her surroundings… take the '74 Miss Universe?

eponine Says:
September 29th, 2007 at 10:02 am

if only her wealth were not ill-gotten, i wills ay love ko na siya. my favorite quote from her:

speaking about the assassination attempt,
"this dark man came up to me and drew a long ugly bolo from his sleeves. it was so ugly. and i thought, god am i going to die in this ugly thing? he could have at least tied a yellow ribbon to it."
Leave a Reply