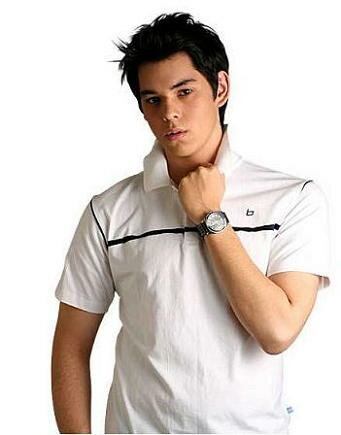 Amazing how in less than 24 hours from posting it here in Manila Gay Guy, the Gaydar rating site has accumulated close to 5,000 unique votes. For every celebrity in the line up, the visitor is asked "How Gay is He?" and given a 10-point rating scale, with 1 corresponding to "He's straight" and 10 to "He's Gay." Here are up-to-the-minute top 3 notable results:
1. Raymond Gutierrez, brother of hunky Richard Gutierrez and beauty queen Ruffa, leads the pack as the one that activates gaydars the most. He has so far received an average rating of 9.38 (out of perfect "gayness" score of 10, based on 631 votes), and comments such as:
Totally gay, he tries to disguise it but he moves like a total queen.
Gaydars were ringing like anything….
gaydar is way off the chart!!!!!
And very succinctly said:
naman…
2. Paolo Bediones follows Raymond Gutierrez, and fills the second top post. This is actually a surprise for me. He received an average "gayness" rating of 9.19 based on 648 votes.
3. Another surprise result: Piolo Pascual, most widely rumored to be gay, received an average rating of only 3.3 based on 557 votes. Seems people still think he is actually straight (or they wish so?) The only celebrity that received a "straighter" rating was Sam Milby, averaging 2.09 based on 803 votes. Both Sam and Piolo beat Ahron Villena, Rafael Rossel, Luis Manzano, and many others in the "straightness" arena. Well all I can say is that I have seen Sam and Piolo in dates only manangs would consider "wala lang." Ay - my bias is coming out! LOL!
Well, it's not too late to lodge in your votes - be heard!








Possibly Related Entries:

72 Responses to "Raymond Gutierrez leads Gaydar!"
Leave a Reply