Troika (Threesome), a film by Ihman Esturco, will be having its red carpet premiere showing on January 30, 2007, 6:30 PM at Robinson's Galleria. The movie tackles the life of miners in northern Philippines, through a very mature attack — definitely for mature audiences only. Inquirer.net describes the movie:
PASSION has decamped the matrimonial bed of a Pinoy mining engineer and his exotic young wife, who left India to live with him in Manila. Love remains but boredom now rules where the Kama Sutra once reigned. The seven-year itch strikes when he leaves for a gold mining operation in Benguet. Her loneliness leads to a drunken dalliance with a stranger. Guilt-stricken, she follows him in Baguio. Then, they find themselves in a perverse sexual triangle. Such is the intriguing plot of Daven Productions' soon-to-be released movie "Troika," directed by Ihman Esturco. Menage a trios a la Pinoy!
Read on to watch the movie trailer, and see the banned movie poster.
The movie poster disallowed by MTRCB for distribution: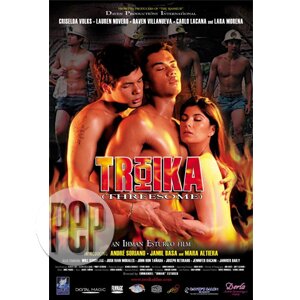 Janvier Daily also makes a sizzling appearance in this movie. The film's commercial run starts on Valentines day, February 14. Its official website is http://www.troikafilm.com — do check if it's working because the last time I checked the bandwidth allocation was exceeded already.








Possibly Related Entries:

11 Responses to "Troika, sizzling new indie movie"
Leave a Reply