He's igorot. He's cool. He's heavenly. He's my kind of cute. Huli ka, Marky Cielo!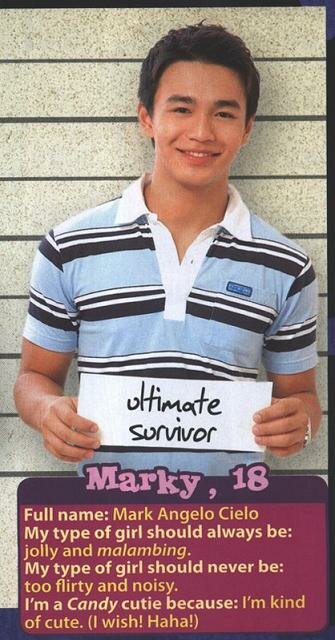 Basics
Full Name Mark Angelo Cadaweng-Cielo
Nick Boknoy
Birthday May 12, 1988
Birthplace Butuan City
Zodiac Sign Taurus
Height 5'8"
Weight
Dialects/Languages Ilocano, Cebuano, Kan-kana-ey,
English, Tagalog
Favorites
(Generally, is not fond of favorites, but just so people would know…)
Quote
Movie You Got Served, Matrix, MI3
Actress
Actor Keanu Reeves
Song Fallin'
Singer Regine Velasquez and Janno Gibbs
Music Hiphop, Techno, Ballad
Food Chocolates
Book
Thing
Hobby/Interests Watching TV, Drawing
Expression "Sus", "Hugz! Hugz!", "Putik!"
Color Blue
Q & A
Personality
>> Simple
Reasons for joining starstruck
>> I just decided to try "buhay artista".
>> For curiosity as well.
Biggest Frustration / Regret
>> Be a good singer
Role Model:
>> My family. As a whole, no one in particular. I just select characters/traits from various people and have them as my example.
Message to aspiring "artistas":
>> Just always give your best, grab all the chances 'cause you'll never know if it is the last
Mahiyain ka ba talaga Boknoy?
>> Hinde
Do you drive? Taking lessons?
>> Nope. Don't have time.
When did you learn how to dance? Any formal training?
>> Since I was 7. There was no formal training. I just joined dance troupes.
If you were not able to make it to the Top 10 of SS3, what could have you been doing today?
>> Studying.
What are your goals in Life?
>> That's my problem. I still don't have a goal in life. I'm working on it, though.
If your friends would look on your picture album, what will they be surprised of?
>> Nothing. I will be surprised if they're surprised.
What did you sing during the Lang-ay Festival?
>> "Sa Kanya" (suicide yun ah! Hehehe)
What's your religion?
>> Roman Catholic
What is your shirt size?
>> Small to medium.
Who is your favorite Judge in SS3?
>> All of them.
What was the hardest Starstruck Test for you?
>> Singing.
What do you look for in the opposite sex, Looks or Charm?
>> Anything.
-
sigh. I wish you were one of us, Boknoy. LOL!








Possibly Related Entries:

26 Responses to "My kind of cutie: Marky Cielo"
Leave a Reply