It's this blog's 4th monthsary… so I wonder — how has this blog performed in terms of popularity? Numbers don't lie (supposedly) so let's see…
According to Performancing.com
Performancing.com says Manila Gay Guy (MGG) is the top blog that has been tagged "Philippines".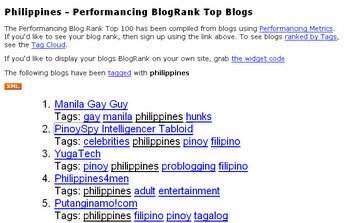 According to PinoyTopBlogs.com
Metrics from PinoyTopBlogs.com show that as of writing, MGG has had 55,899 unique hits in December, putting it at rank #6 in its list; MGG also has accumulated 482,104 pageloads this month, higher than any other blog in the PinoyTopBlogs.com list. I just wonder why Yuga (owner of PinoyTopBlogs.com) has decided not to include MGG in the list (he classifies MGG as "suspended" — maybe he is homophobic? Hehehe. Peace!).

According to Traffic Statistics
Even with MGG just celebrating its 4th month, the blog has crawled out considerably to pretty much a good number of blog readers.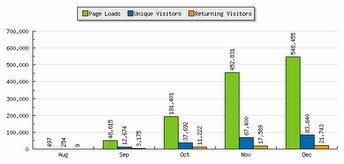 The graph above shows how the traffic has grown from August 28 to December 27, 2006. You can see a more than 1,000% growth from the September monthly hits to December monthly hits — not bad at all!
Your Comments Make This Blog Click
Well, honestly speaking, while this may seem trivial, I feel quite happy knowing that more people are reading MGG. I feel very much honored to be part of your consciousness. I'm especially indebted to those people who take time and effort to comment and share their thoughts here, those comments are what make this blog really interesting in my opinion. Also, I am very much edified by the many emails I receive, all of which encourage me to further improve the site for your viewing and reading pleasure.
So on this 4th monthsary of this blog, I give back to you the appreciation — dear readers of MGG, mabuhay kayong lahat! And don't forget, all of you are my allies — please continue to help me even through very small, minute steps, in bringing World Peace to every nook and cranny that are within each our reach. I, thank you!








Possibly Related Entries:

24 Responses to "How Popular is this Blog?"
Leave a Reply