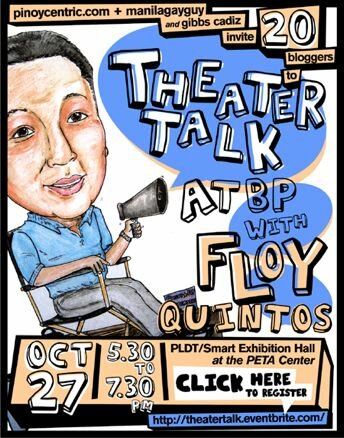 PinoyCentric and Manila Gay Guy, with the help of Gibbs Cadiz, are inviting 20 bloggers to "Theater Talk Atbp," with multi-awarded writer-director Floy Quintos. This informal, animated, and interactive chikahan session on theater appreciation will be on October 27, Saturday, 5:30 to 7:30 p.m. at the PLDT/Smart Exhibition Hall of the PETA Theater Center on 5 Sunnyside Drive, New Manila, Quezon City.
This is a rare opportunity for bloggers to learn from someone who has had extensive experience in theater, television, show business, and the arts.

Mr. Quintos' professional practice ranges the field, from Ballet Philippines to Kuya Germs, from directing a Vina Morales concert one moment to staging the UST Conservatory of Music's acclaimed production of Tchaikovsky's opera "Eugene Onegin" the next. He's guided the ditzy show-biz talk show "StarTalk" to its 12th year and appears on TV as one of the judges in "Pinoy Pop Superstar," while also churning out well-written, highly contemporary theater pieces like "Laro" (Schnitzler's "La Ronde" set in Manila's gay milieu) or "St. Louis Loves Dem Filipinos" (about the export of Filipino tribesmen to the St. Louis World Exposition in 1904). He runs his own art and antiques gallery, even as he's also one of the most in-demand directors around for corporate shows, product launches and the yearly velada of Assumption alumnae and their like. [Source: "Fluid, as in wishy-washy"]
This event is free, and we won't starve you (yes, there's free merienda and we'll be raffling off some stuff too!), but we only have slots for 20 bloggers, so head on over to this site and register. (In case the 20 slots have been filled, please register anyway and we'll try to accommodate you when someone backs out at the last minute.)
Our only condition is that you blog about this experience. We promise it will be priceless. See you there!








Possibly Related Entries:

15 Responses to "Calling All Bloggers!"
Leave a Reply