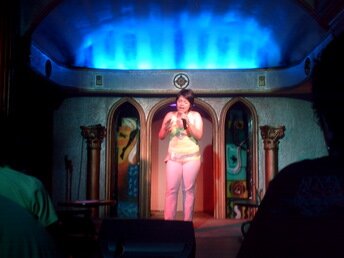 I was, again, in Bassilica in Malate last weekend — if you don't know where it is, or what it is, read on!
How to Get There
Bassilica Bar and Café is located a little bit off the usual bar clusters of Malate, although from the Orosa cluster of gay hangout places it is just a 5-minute walk. Walking guide: From the corner of Orosa and Nakpil, follow Nakpil Street towards the direction of Taft Ave. You will pass 2 small intersections, and the next one will be P. Hidalgo Lim Street where you should turn right. Go straight and on your right you will see Bassilica, just in the corner of P. Hidalgo Lim and Remedios Streets. This is a merry-gay-walk that will give you that slightly rosy cheeks effect, perfect for your grand entrance to the hallowed Bassilica. And… do notice the sholbams or call boys that are littered around the streets you pass en route to Bassilica — some are dugyutin but others, if you are lucky, can be handsome enough to actually make you blush a fabulous bit.

Regular modelling competition
On Wednesday nights, Bassilica holds their Face of Bassilica (FoB) Modelling Competition. During FoB season (yes it's not year-round), you can find upcoming models in oh-so-skimpy bikinis (warning: it's for both men and women ha) strutting their stuff on-stage. And if you get lucky, you can just be seated inches away from bulges that may be worth a million dollars in the future. The many times I was there for FoB night, I can say Bassilica does attract some good looking bulges…. Ooops… I mean models. So if bulge-, errr… model-watching is your cup of salabat then try it out one of these Wednesday nights!
Sing-along Comedy Bar
Bassilica, while famous for FoB, is first and foremost a sing-along comedy bar. Which means, if you have the guts to sing in front of a crowd of strangers, then this is just the right place for you. They have a very good sound system in place, respectable stage design and lights, and these will definitely make you feel like a pro as you sing your heart out. Simply write 2 song titles and your name (first name is OK, alias is OK) on a piece of paper (or even on the tissue provided on the tables) and give it to one of the waiters. They already know what to do with it. You will then be queued by the DJ, just wait for your name to be called. And when you get called, while the DJ fixes your songs, the hosts would do the obligatory grilling. Prepare for questions about your sexuality, your sexual habits, experiences, etcetera.
Requesting the hosts to sing
Now, if you have no guts to sing, but is dying for a song to be sung on stage by one of the hosts (they have really good singing voices), then what you do is this: write the song title on a piece of paper, fold the paper into two while inserting a Ninoy Aquino bill inside (that's 500 Philippine pesos for the foreigner readers), then ask a waiter to give it to the hosts. Don't bother giving something lower than 500 pesos if you don't want to publicly lose face, and be tagged kuripot (stingy). The hosts normally would sing your requested song right away as they really welcome those tips from the audience.
Upcoming events at Bassilica:
QUEST FOR THE NEXT RUNWAY MODELS
Elite Modeling
open to MALE & FEMALE prof or aspiring models
ages 16-22 years old only
bring decent swimwear and casual wear during screening
Screening Dates:
SEPT 8 & 9, 2-6PM only
DANCE STRUCK
Solo Dance Search
open to MALE & FEMALE prof or aspiring dancers
ages 16-22 years old only
prepare one dance number
Screening Dates:
SEPT 15 & 16, 2-6PM only
BASSILICA IDOL
Singing Search
open to MALE & FEMALE prof or aspiring models
ages 15-24 years old only
prepare 2 songs (slow & upbeat) - no need for minus1
Screening Dates:
SEPT 15 & 16, 2-6PM only
(Bassilica Bar and Cafe is located at 1855 P. Hidalgo Lim Street corner Remedios Street, Malate, Manila. Contact numbers are +63-2-5245241 and +63-906-4979191.)








Possibly Related Entries:

One Response to "Bassilica Bar and Café in Malate"
Gay-less Bassilica Bar and Café | manila gay guy is your manila gay guide Says:
December 2nd, 2006 at 10:41 am

[…] The gay crowd seems to be a dying breed among Bassilica's audience. I was there with some friends recently and at one particular moment while all the okrayan hullabaloo was happening on stage, I noticed how the place has gone the same path as Laffline, Punchline, and similar establishments: the Bassilica crowd has evolved to mostly women and their occasional menfriends. How about the predominantly gay audience of Bassilica? […]
Leave a Reply