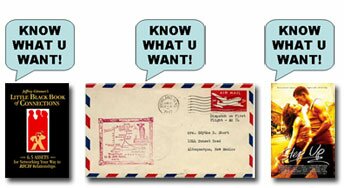 Funny how my day yesterday had a theme, and it was "Know What You Want!"
In the morning, I was reading my book, Jeffrey Gitomer's "Little Black Book of Connections." I was in the second chapter that talks about how important it is to start with knowing what you want to achieve, knowing what you want. He was discussing this in the context of building connections with people, social networking. This book is quite interesting.

In the afternoon, I was pleasantly surprised to find a "fan mail" from one of the readers of this site. He was talking about how great this blog is, and how he wishes he can be himself. Apparently he is a closet queen, afraid to show his true colors. My reaction was - "be yourself, and know what you really want!" While being gay may not totally be a matter of choice, I believe being happy as a gay person is. So, to you brother, know what you want and be happy in living your life! I'm sure the people who love you wish the same. I too!
In the late evening I caught the showing of "Step Up." I should tell you that Channing Tatum is a real hottie. The story was okay, entertainment value was average, but… Channing? He is smoldering. Uh-oh… I deviate… so, one of the premises of the story was that people who know what they want have a direction, and thus find more passion in what they are doing. In fact this was the realization of Tyler, Channing's character, as he started to rehabilitate into a less chaotic kind of life.
So there. Morning, afternoon, evening, bombarded with "Know What You Want." I thought of sharing this with you because I think it is an important message. And a recurring one. I believe that knowing what you want is more of a process — you find out more and more about your passions as time passes by. So, for this weekend, take same reflection time and see if you can clarify this more to your ever fabulous self. I love you all! Have a great weekend everyone! Mwah!








Possibly Related Entries:

One Response to "Know What You Want"
leo Says:
November 20th, 2006 at 1:53 pm

well i think knowing what you want is one of the most important things in this world. i mean how could you be happy if you don't know what it is that you really want. you would always feel that something is missing and it would be very difficult to be contented, and without contentment there would be no happiness.
Leave a Reply