Hear them talk when the prying eyes ain't looking…
(L-R) Joanna, Polonya, and Marquita
Joanna: In furnez, ang sarap sikuhin your abs-less stomach, Polonya ha! So smooth…. Na-e-erbogzan akez!
Polonya: (whispering to Marquita) Tita, so sarap naman ng head-to-head natin, you sure wala kang kuto?
Marquita: (to Polonya) Gaga ka, you have semikal hair naman, so kapag naarawan ka, masa-sunburn ang mga kuto kaya patay agad!
- o -
Hahahaha! Just teasing people! Among the 3 only John Pratts has consistently made buzz about his alleged homosexual tendencies, and even actual activities. Some people swear to their mother's grave that John Pratts likes men more than girls. I don't know, I've always thought of him as a cute boy who never grew up so I never really took notice.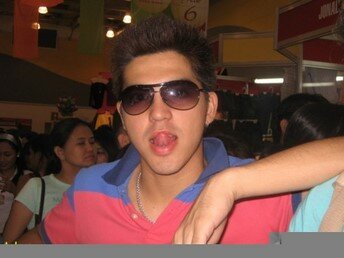 Pahabol: How cute your pinkish tongue action over there Mark! I know you want to use that on me! Diba, diba?! Hahaha!
(In picture 1: John Pratts, Polo Ravales, and Mark Herras. In picture 2: Mark Herras.)








Possibly Related Entries:

10 Responses to "Hear them talk among themselves"
Leave a Reply