Kian Kazemi is proving he is tough competition against Nel for Bruce Quebral's bodylicious bod. Big brother favors Kian with a chance to give Bruce a body scrub. Bading na bading ang PBB ngayon ha! Rejoice! Hahaha!
Bruce's face spells B-L-I-S-S!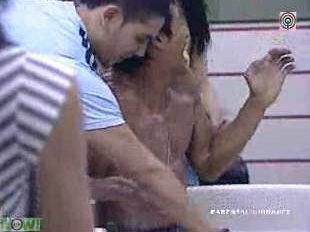 Notice the body language! Woo-hoo Bruce!
BONUS: tinablan kaya si Bruce? Hehe!
Technorati Tags: Pinoy Big Brother, PBB, Bruce Quebral, Kian Kazemi, Pinoy Big Brother Season 2, PBB2








Possibly Related Entries:

24 Responses to "Bruce gets Body Scrub from Kian"
Leave a Reply