Tired of the same old stuff, those good looking male models? Well here's a break from all that — I present to you sexy rockstar, Marc Abaya!
Ramon Marcelino "Marc" Abaya is one of the Philippine rock music scene's most prolific singers. He is the son of Manolo Abaya and Marilou Diaz-Abaya, two very significant people in Philippine Cinema.
Discovered by Raimund Marasigan of the Eraserheads, during a battle of the bands in which Abaya's band (Shirley Beans) won first place. Marasigan, who was one of the judges for the night, invited Abaya to act as frontman for the band Sandwich in 1998. Sandwich successfully released three albums; Grip, Stand, Throw; 4-track mind; Thanks to the Moon's Gravitational Pull.
While in Sandwich, he formed a band with his closest friends they named Kjwan. Formed May 2003, Kjwan successfully released their self-titled album in 2004. Their carrier single Daliri is a massive track which makes the crowd go wild during concerts.
He left Sandwich sometime in 2004, not only to be a full time member of Kjwan, but also because he could not juggle having two bands and being a VJ for MTV Philippines at the same time.
Sandwich remained in the mainstream, though. They recently released their fourth album Five on the Floor, with Marasigan taking over frontman duties. Mong Alcaraz of Chicosci joined Sandwich to as one of the guitarists.
He joined MTV Philippines in 2003 and became one of the VJs until the dissolution of MTV Philippines under the Music Source Inc on January 1, 2007. He was not re-hired by All Youth Channels Inc, the company that operates the new MTV Philippines. Marc had hosted a variety of shows, most notably "Rockola on MTV" and "Massive". His MTV career had also gained him more widespread recognition as a host. (From Wikipedia.)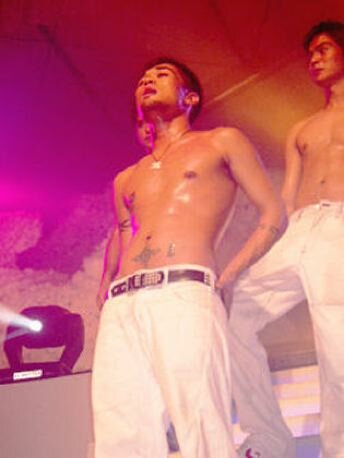 Possibly Related Entries:

17 Responses to "Marc Abaya, sexy rocker"
Leave a Reply