Success breeds success, that is why I would like to highlight exemplary Filipino gay folks here in this site as well. Let them be our inspiration.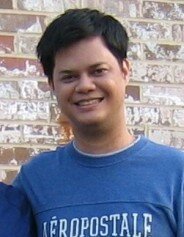 One of the more prominent intellectuals of our time, with a name everybody recognizes, is gay. Manuel L. Quezon III, Manolo for some, or MLQ3 as he is popularly referred to, reveals it himself in his blog. He mentions this alongside being adopted, a former drug addict, and a burn victim. More from his blog:

Manuel L. Quezon III was born in 1970 and currently hosts a weekly program on the ANC cable news channel, "The Explainer." He has been an opinion and editorial writer and editor since 1994. At present he a columnist for the Arab News Newspaper; head of the Speaker's Bureau, columnist, and an editorial writer for The Philippine Daily Inquirer newspaper; and Assistant Managing Editor and editorial writer for The Philippines Free Press weekly news magazine. He has received various awards for his professional work, including being named "Opinion Writer of the Year" in 1994 and 2005 by the Rotary Club of Manila's Journalism Awards, the oldest journalism awards in the country.
MLQ3 says:
I am Gay. This makes me a member of a minority judged, vilified, misunderstood, and persecuted by those who claim to possess the right to judge others and impose their judgments on others. To live and love as a Gay person is to resist, fight, and denounce those who would deny you the ability to pursue your own ways and means of finding affection. In the realm of religion, this requires the defense of a secular society that accords me the rights and protection religion would deny me; and yet, having experienced both the good and bad that religion can inspire in others, it requires of me a healthy respect and desire for dialogue. Anything and anyone who would restrict the human and political rights of a Gay person, is the enemy of the Gay person.
He ends his blog post with:
All these things make it clear to me that there are certain things I hate: I hate, most of all, the tyranny of the majority, the dictatorship of ideology and religion, most especially when its dogma is aided by force of arms and the mob mentality. History teaches me that neither fascism nor communism has ever made room for my kind; experience has demonstrated to me, that those who do not think, or who think they have the answers to everything, as every bit as cruel -and crueler still, in many cases- than those they claim to dislike as either morally, politically, or socially inferior. While I admire the powerful force for good that organizations, parties, religions and states can be, I loathe the force for oppression, persecution, destruction and exploitation that by nature, they also tend to be. I have seen the best and worst all walks of life have to offer, and do not trust those who would impose change by force -but I recognize that change is not only inevitable, it is healthy, it is necessary, it must be encouraged, for to thwart change is to begin its mutation into a force for evil and not good. I recognize there is good and evil, that the evil may become good, and the good often fail to realize when they have become evil. To me, debate, discussion, an abiding curiosity and a discomfort with certainties, are what, in the end, help to achieve the only real goal we should have in life: a society where compassion between individuals rules, and in which certainties, that lead to inflexible moral and political hierarchies, do not.
* * *
At the very least, I admire MLQ3's honesty and professionalism. His recent clash with fellow PDI columnist and former Justice Isagani Cruz, who wrote an apparently anti-gay article in his PDI column, showed how professional he is. While he published a couple of retorts to Cruz's article, he says:
i disagree with some who have criticized justice cruz and demand he be fired by pdi. he has every right to say what he wants, and everyone can write angry rebuttals, but if he got fired for saying something, then everyone could demand everyone else be fired simply if they got angry enough. so it might cause some joy to get cruz fired, but where would it stop?
From where I stand, MLQ3 is a very admirable person. It would be great for me to meet him, and maybe interview him. Hey MLQ3, if you are reading this, leave a message or shoot me an email. I would love to have the chance to interview you for my dear readers. Or maybe I'm shooting for the stars? Well, we should all be.








Possibly Related Entries:

6 Responses to "Gay Idol: Manuel L. Quezon III"
Leave a Reply