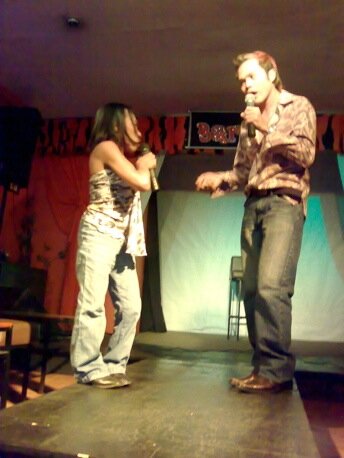 Amidst the featured delicious hunks, feverish forum for gay issues, and a bunch of gay-related love and relationship concerns, the Manila Gay Guy brings you this rare feature: Vanessa!
I first met Vanessa while enjoying their show at Bar Uno along Timog Avenue, Quezon City. Even during that first meeting, he struck me as an impressive person with a soul as strong as steel. Why? Well for starters, he is, as many people usually call his kind, a midget. Not only that! He stands no more than 3 feet, and walks bow-legged with his right leg shorter than his left. He is called many things, including but not limited to: freak, monster, impakto, maligno, etcetera – he is called these during their impromptu comedy skits, although I wouldn't be surprised if others actually refer to him as such even off-stage. He really is a striking vision, an image that surely elicit guffaws wherever he goes…. and with his picture here I'm sure you know what I mean.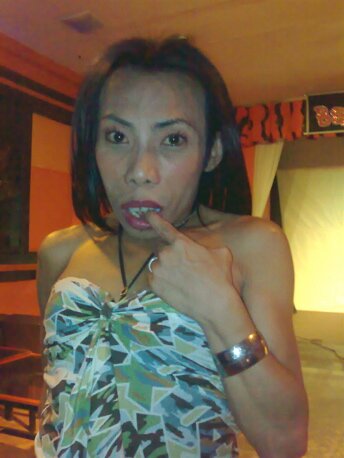 What struck me about Vanessa was his drive to succeed despite his condition. In a short chat with him, he shared how his physical condition came about. "Nagka-polio ako nung 2 years old ako." At first I thought it was a hereditary condition. He confirms that it is not, "mga kapatid ko matatangkad, normal ang height." Vanessa is the panganay, with 3 other siblings. He is 35 years old.
Vanessa was able to finish high school, and was on his way to finishing a computer-related course at STI when his father passed away. Being the eldest (yet smallest), he felt he needed to stand as the family's breadwinner (his mother is a housewife). Straight out of a semester in STI, he decided to work and became a "promo girl" – he walked around the streets of Metro Manila, a stroller full of goodies in tow, offering items on sale, house-to-house ang drama. I was shocked, "nakaya mo yun? Eh paano yung paglalakad?" He shrugged it off like it was nothing, "malakas pa ang mga paa ko nun, bata pa ako. Hihihi!"
One fateful night though, while relaxing in a videoke bar with friends, he was discovered by a talent manager. "Ganda ng boses mo!" his discoverer told him, "at kakaiba ka!" referring to his physical condition. The discoverer brought him around different comedy bars for Vanessa to get a feel of how it is to work in such environment. His first real gig as a singer and comedy bar talent was at the Music Bar. where upon performing, the audience took so much interest in him that he was able to get tips to the tune of Php 5,000!
* to be concluded *








Possibly Related Entries:

15 Responses to "Gay Idol: Vanessa"
Leave a Reply