An update on findings from Google Trends:
Not only in searching for the term "gay sex" are Pinoys the leader… I just found out that we also lead in the propensity for searching the terms "masturbation" and "cybersex"…
Proof below, a screenshot of Google Trends.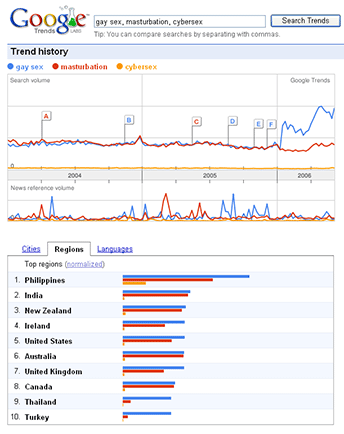 Now, what does this mean? Literaly this says that Pinoys tend to search more these terms compared to our internet-savvy counterparts in other countries.
Possible hypothesis:
There are more gays per capita in the Philippines
There are more people here who are sexually repressed and thus they express it out through the internet.
Gays in the Philippines are more internet-savvy than non-gays.
What do you think? Any other hypothesis you can think of?








Possibly Related Entries:

6 Responses to "Pinoys lead in "masturbation" too!"
Leave a Reply