Does gayness define you?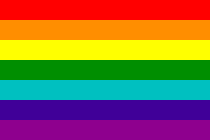 I have been busy travelling the past days, all for my day job in the corporate world. The other side of being busy travelling is lots of idle time in airports and in airplanes; during those idle times my mind becomes extra-reflective, meaning I get to have the luxury of pondering on things I normally take for granted.
Out of the blue, this question popped in my head — does gayness define me? There are 2 ways I attack apparently difficult questions like this: by looking inside, and by looking outward. I looked outward first.
I look at several gay folks I've come to know better in the recent past, and it's quite easy for me to see that as I recall them, what comes to mind are these people's good side, their strengths, those that make them honorable and likeable.
Mac_Afro: supple, strong
Mac_Afro, a reader of this blog, has been a friend since 5 years ago. If asked what I remember about Mac_Afro, I would say his utmost resilience — he has this supple strength that makes him survive cheerfully the highs and lows of his life; he is very ambitious, and puts his head on the line just so he can give his dreams a chance. He currently works for a TV network as a video editor, a feat which I attribute to his steadfast resolve to reinvent himself as a technical and creative person. In his personal life I see a person who has been bruised and scathed through so many challenges yet still excitedly anticipating great things ahead.
Christian: Family Man
Christian is another friend that comes to mind. He is a seafarer chef who at 24 is his family's breadwinner despite being the youngest in the family. Before he left just a couple of weeks ago for another 1-year contract as a seafarer chef, I had a chance to get to know him better. Christian is a very focused and goal-oriented guy, having saved up enough money from his seafaring to build a 12-door apartment as his parents' source of income. This means too that he has subjugated his own wants for the benefit of his family. Just before he left, he discovered about his father's womanizing, and went straight ahead comforting his mother and trying to patch up the results of his dad's indiscretions. It is edifying how he has played such a mature role despite his being the youngest in the family.
Tom: Head, heart, others
Lastly, I remember my MBA classmate Tom. He is our class valedictorian, and a very accomplished executive in the corporate world. Tom is one of the most cheerful guys I know, has a very good head on his shoulders, and a very kind heart in his chest. Whenever I have problems at work, he is one of the guys I consult. He is humble despite his many accomplishments, and ready to help friends in a heartbeat. Some years back, we organized an orphanage outreach where he met a couple of orphan kids; since then he has been regularly visiting them up till this time. The kids have grown up quite a bit, and "Kuya Tom" has been there all along.
Gayness Is Just a Part of You
Notice that while Mac_Afro, Christian, and Tom are all gay, I wrote nothing about their being gay. There is no denying that they are gay, but the way I remember them transcends that. Their gayness is a part of them, some may even say a huge part of their person, but I can confidently say — it does NOT define them. In short, they are much more than just gay. They are people with qualities that stand out among many others that incidentally include homosexuality. This may be obvious to some, but I would say not to all. Many people still get overwhelmed when they get to know someone is gay — this is especially true if the gay man had not been showing the stereotypical outward signs of gayness. And with that, whenever they think of that gay person, they will remember him as just that person they know who turns out to be "bakla pala."
How about you?
I turn to myself, and inwardly ask: does gayness define you, Migs? Well, you have called and tagged yourself as the Manila Gay Guy, right?
To the readers, how about you? Have you had experiences wherein people know you as nothing but just that "bakla"? How does it feel? Would you share your thoughts here?
(To be continued.)








Possibly Related Entries:

19 Responses to "Does gayness define you?"
Leave a Reply