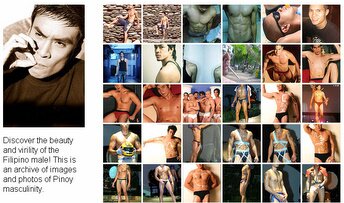 Flickr denizen, codenamed "Magagandang Lalaki" gathered pictures of hunky Filipino men and built his "Filipino Masculinity" Flickr Set. Sweet!

"Magandang Lalaki" says the following about himself in his Flickr profile:
im young, hot, intelligent, beautiful, sexy guy
About Me:
1. im 5.9 ft
2. 155lbs
3. i have a big apetite
4. im a strong drinker
5. i value friendship
6. i love my folks but i cant help but piss them off..
7. i rarely smile except when i fart or someone trips >:)
8. i love my ref and microwave and dvd player
9. i spent 1/4 of mah life playin' video games
10. spent d other quarter playin wid my self ;p
11. i love tragic endings
12. im a scorpio
13. i love the weather cold
14. and my partner hot ~)
15. i hate numbers
16. im 1/4 mexican
17. i spend every cent if its worth it
18. i love my boy, MIKAEL CO
19. i miss kissing his lips,. and waLking in the rain with him
20. im misunderstood but i dont give a rat`s ass
21. i prefer boxers but i have tighty whitees
22. i live life to the fullest
23. i listen to those who i care for
24. i`ve been thru hell & back
25. i hate being alone
26. i sing…only to myself
27. i respect those who deserve respect
28. im naughty.. but nice?
29. i easilly faLL inLove but hardly fall out
30. i love violence but dont practice it heheh but in some ocassions
31. i love porn
32. i cook good food
33. i hate insects&rodents
34. i sleep at 3am
35. im flexible/versatile
36. im take no bull from anyone cus i give none
37. i sleep in the nude
38. im daring ehehehe gaLit asawa ko..
39. faithful loyal,,,yep.its true..
40. i like things simpLe &cLean
41. i keep my toilet floor dry
42. i admire&respect both my older and younger brother
43. im a middLe chiLd
44. i dont have allergies
45. my penmanship Looks Like scattered crap
46. im open minded
47. i try anything once
48. my true friends are Lazy ass bitches who dont go onLine
49. im passionate
50. im still thinking of what eLse to say… =D
I'm Male, 22 and Open. Makati, Philippines.

Hmmm… wanna see him? He's here.








Possibly Related Entries:

2 Responses to "Featuring Filipino Masculinity"
carl Says:
March 17th, 2007 at 4:08 pm

how can i access this site?

earl Says:
September 7th, 2007 at 10:46 am

51. i am so not interested
Leave a Reply