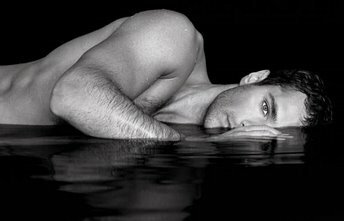 RG-boy: Migs, I'm depressed. Inom tayo. It's about the same thing I told you before. I feel bad that I can't bring myself to tell my family about my being gay.
Migs: Well, you don't have to tell them.
RG-boy: I have to. I want them to know. Importante sa akin na tanggap ako ng pamilya ko.
Migs: Yun naman pala eh. Then go, tell them.
RG-boy: I can't. I just can't. Inom tayo.
Sige, inom tayo. Let's drink till the cows come home. Till the carabaos come home. But after that, will your issue go away?
- o -
Some of you may feel this issue is so passe. That it's so "yesterday." But, listen guys, it *is* an important issue. Since this blog became relatively popular among Pinoy gay guys, I've been receiving upto 5 emails a week, from different people, as young as 14 and some in their 40s, asking me how best to open up about their sexuality to people that are important to them. They ask, "Migs, I want my family to accept me, but I can't just open it up. I don't want to get rejected." The issue may be too melodramatic for some, but for me who gets to receive those emails, I feel and taste their sadness. I get sad myself. To those people who seek my advice, I say the same thing, maybe in many different ways: decide to be happy. Decide to do what it takes for you to be happy.
- o -
When I was younger, I loved reading inspirational stories. As I read more through the years, and grew more mature, I noticed there were far too many of these stories that espouse the idea that happiness is nothing but a simple decision to be such, they say –
Happiness Is a Choice.
Furnish your mind with happy memories.
I think more about it, and a simplistic analogy comes to mind. Does it mean that when I feel sad, I just have to imagine beautiful, happy things – "think flowers!" a friend once blurted out – and voila! I will instantly turn around a full 180 degrees, from sadness to happiness? I say, not so fast, dude.
I have an alternative way of understanding it. Perhaps when it is said that "Happiness Is a Choice" it assumes that one has to decide not just to be happy – but to do things that are needed to make one happy. It is similar to the original idea, but definitely different in the practical sense.
There are two important steps that are missing in the original, simplistic interpretation:
1. Know what would make you happy. (Is it wealth? A loving relationship? A family that knows and accepts you as you are?)
2. Decide to act, and then act purposefully. (Do what it takes to attain that which would make you happy.)
So yes, happiness is indeed a choice. But rather than just fluffy happy memories, furnish yourself with thoughtful self-knowledge, and purposeful, steadfast action to attain that which makes you happy.








Possibly Related Entries:

34 Responses to "In Pursuit of Happiness"
Leave a Reply