My hunk-of-the-week is…. tadaaaa… Dennis Trillo. I saw him in a Petron station in EDSA, gassing up his car,… so boyish… so ooomphy! And I think I'm in love!
Pictures from when I chatted* with him: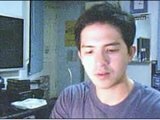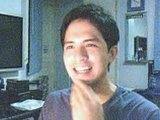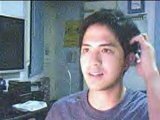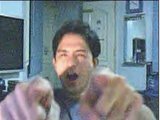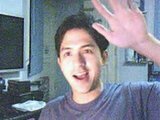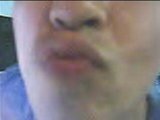 (Just kidding, I didn't chat with him… snatched the photos from The Promdi Chronicles. Thanks, pseudochinai!)
Fabulous Dennis: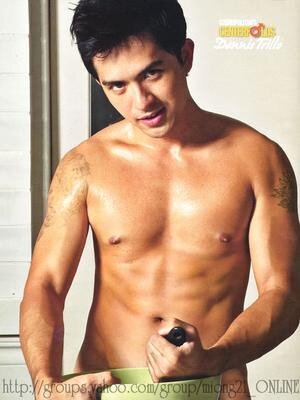 (From miong online, as you can see in the text above.)
Dennis Trillo is Abelardo Dennis Florencio Ho in real life (born May 12, 1981 in Quezon City, Philippines). He is a notable and critically acclaimed television and film actor in the Philippines. He rose to prominence via his film debut Aishite Imasu (Mahal Kita) 1941 which skyrocketed him from matinee idol status into the roster of Philippine cinema's most credible actors. He is currently an artist of GMA Network.
Trillo came from a well-off family, the eldest and only son in a brood of three. He attended Ateneo de Manila University throughout pre-school and elementary and moved to Jose Abad Santos Memorial High School. He completed a degree in International Studies at Miriam College.
His career in entertainment started in 2001, when he was introduced as one of the young talents for the 10th batch of Star Circle, ABS-CBN Network's artist machinery (now known as Star Magic). He was seen in the television soap opera Sa Dulo ng Walang Hanggan where he played the confidante of one of the lead stars. Despite his exposure, Trillo's career did not really take off.
His biggest breaks came upon his transfer to GMA Network wherein he became one of its contract stars. He was cast in several television outings like Kahit Kailan, Twin Hearts and Love to Love.
Trillo's stardom continued to rise in 2004, when he became one of the lead stars in the popular telefantasya (fantasy-themed TV series) Mulawin. He made his film debut in Aishite Imasu 1941: Mahal Kita, where he received raves for his portrayal of a cross-dressing spy for the HUKBALAHAP during the advent of the Japanese invasion in World War II. For Aishite Imasu, he received several awards and citations including Best Supporting Actor from the 30th Metro Manila Film Festival and Best Actor trophies from the Film Academy of the Philippines, the PMPC Star Awards For Movies, and the Young Critics Circle. He was also included in the third installment of Mano Po, which starred Vilma Santos, a veteran actress and grand-slam Best Actress awardee.
2005 proved to be a more fruitful year for Trillo. He was part of the hit TV adaptation of the Mars Ravelo comic, Darna, where he played the love interest of both the titular super-heroine as well as her archenemy Valentina. He was later part of the drama anthology Now and Forever: Agos, where he again showcased his acting prowess. That same year he reprised his role for Mulawin: The Movie, and was also in the film Blue Moon alongside award-winning actors Eddie Garcia and Christopher de Leon.
Trillo was again cast as a lead in Etheria, where he portrayed the Sapirian prince, Raquim, previously donned by Richard Gomez. Midway through the series, GMA Network management announced that Trillo would be pulled out of Etheria to once again star opposite Angel Locsin (who played Darna) in Majika, another fantasy-themed television series. Although subsequent to the announcement, many Etheria fans felt that it would be a big blow to the series since he plays a major character. Ultimately, it was cleared that Trillo would see the series to its finale.
Trillo reunites with former love team Angel Locsin as they top-bill in GMA Network's newest offering, a television fantasy series aptly called Majika. Trillo plays Argo, a provocatively clad Salamanca (wizard) with finesse in archery who teaches his protégée Sabina (Angel Locsin) how to hone her craft and become a powerful sorceress. Aside from his television show, Trillo also starred in the horror-suspense film Pamahiin, which is his first major acting role for the particular film genre. Recognizing his passion for making music, GMA also included him as a co-host for the network's noontime show "SOP" where he also displays his talent for drums as part of the show's Starband.
(Dennis Trillo's profile from wikipedia.org.)








Possibly Related Entries:

38 Responses to "Dennis Trillo is my guy"
Leave a Reply