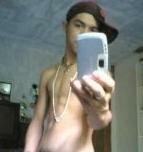 In a previous post, I invited readers who are *still* confused about their sexuality to share their thoughts with us. Here's one reader, with screen name Francis, who opens up to all readers of this site. Read his story, then… I'd like to invite you to give him a piece of your mind by commenting here.

(Here is his email. I preserved it in its original form as much as possible. Corrected only some obvious typos, and converted the text speak. All the rest is his original email.)
hi migs…
im francis (not real name) im confused, really confused guy…
im in a realationship now with a woman…
we have 3 year old daughter…
help me…
di ko na alam gagawin ko…
di ako masaya sa relationship ko ngayon…
kasi di ko plinano
one night stand tapos yun nabuntis na kaagad.
and kailangan ko panagutan
yun ang pinakamalaking pagkakamali ko
marami na ko sex experience sa same sex
pero lahat yun pretend ako na di ko gusto lahat..
kasi lahat yun me kapalit…
pera…
pero ewan ko ba …
hinahanap hanap ko
minsan nga ginagawa ko na lang yun na alibi…
para lang maka-encounter uli ng sex sa same sex…
pero kapag naka-set na yun time nag-ba-back out na ko…
natatakot ako sa pwedeng mangyari…
pero gusto ko
me hitsura kasi ako…
medyo malakas ang appeal sa mga bakla at silahis
dami nga nag-o-offer kapag nakikita na nila ako sa cam
pero natatakot talaga ako…
di naman ako attracted sa same sex
pero parang gusto gusto ko na makipag-sex sa kanila
di ko rin maamin sa sarili ko na gay o bi ako
di ko alam
sana mabasa mo to….
thanks…
As mentioned, do share your thoughts, pieces of advice, etc. to Francis… comment here so he, and others too, can read and learn from it. (The picture here is from Francis' Friendster account.) Those who leave a comment will be sent Francis' Friendster account URL so you can add him. His Friendster account advertises him as a call boy, and has pictures with frontal nudity — disclaimer: this blog is not in any way endorsing his services. This blog post is solely for opinion sharing.








Possibly Related Entries:

50 Responses to "Confused Francis"
Leave a Reply